Mindless Pleasures
Thursday, February 10, 2011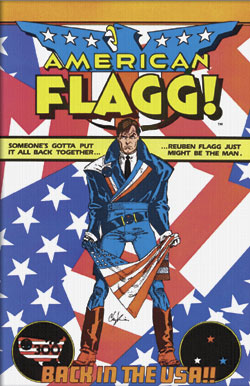 As of one week ago today, I finally finished Gravity's Rainbow. Now that I've read the whole thing, I can more responsibly ponder the Frank Miller question. While I'm still not a fan of the actual cover he produced, I also still think his selection makes a lot of sense: there's a ton of comic-book imagery in the novel, and many of Miller's themes (militarism, noirish overcomplicated plots, skeezy sex, fascism) are present. The more focused and disciplined Ronin-era Miller would probably have done a better job, but that was clearly not in the cards. In any case, let's move on from Miller — it is more fun to speculate about other cartoonists who might have worked even better.
Assuming you wanted to stick with a modern-era superhero artist, Howard Chaykin is one obvious (and arguably more apt) choice. The late Jack Cole, who is referenced often in the story itself, would have been pretty much perfect, though obviously he was unavailable for cover duty. While we're dreaming, Jack Kirby initially seems like a good fit, but there's a certain nobility in even Kirby's saddest comics that would be far out of place in the corrupt, fallen world of GR. That thought leads, of course, to perhaps Kirby's greatest descendant, Gary Panter, who is ultimately the one and only obvious choice for the assignment.
But there's no reason to restrict this game to just one book. All of the entries in the "Graphic Penguin Classics" series present ideal speculative fodder for the armchair designer-hirer. I'm a fan of most of the pairings (some, such as Tony Millionaire on Moby-Dick, are pretty close to the Platonic ideal for this kind of thing). When I congratulated one prominent cartoonist on a cover in the series which I thought similarly well-assigned, I was surprised when he replied by saying that he in fact "despised" the book in question. I still believe the resulting cover was one of the best in the series so far, so clearly the book and artist don't always have to be simpatico for these things to work.
With that in mind, let's waste some time now matching up books and potential cover artists. Feel free to disagree, add your own, or ignore this misuse of internet entirely.
William Faulkner's The Sound and the Fury
Is Al Capp too obvious? How about Norman Pettingill?
Mark Twain, The Adventures of Huckleberry Finn
R. Crumb is almost too easy, but also feels so right.
In that same on-the-nose spirit:
Norman Mailer's The Prisoner of Sex
Dave Sim
Harriet Beecher Stowe, Uncle Tom's Cabin
For some reason, Kim Deitch seems like a good fit here. Or maybe even better for Deitch would be Baum's Wonderful Wizard of Oz. Penguin has already done Dumas, unfortunately, but I once heard Deitch express interest in drawing a cover for The Count of Monte Cristo, which would be pretty amazing, too.
Ursula K. LeGuin, The Left Hand of Darkness
Moebius. Or Philip K. Dick's Three Stigmata of Palmer Eldritch. Actually, what I would really love to see would be a series of pulp sf novels, all chosen and designed by Moebius.
Bram Stoker's Dracula
Al Columbia
Ovid's Metamorphoses
Frank Santoro
Charles Fort's The Book of the Damned
Mack White would be work well with this here, but maybe even better: Kevin Huizenga.
Vladimir Nabokov, Lolita
Debbie Dreschler. (Judging by its publication history, most publishers think the "sexy" route is the way to go with this novel, but I think that's not only uninteresting, but also the result of a pretty grievous misreading.)
Christina Stead's The Man Who Loved Children
Lynda Barry
Then there are two cartoonists who I know would be perfect for some book, but I can't figure it out yet. Maybe one of you can help me out. Mike Diana. Gerald Jablonski.
I may add to this list later, but feel free to go to it in the comments section yourself, if you're so inclined.
UPDATE: To make things more interesting, here are a few more books that might be fun to "cast":
1984
The Canterbury Tales
A Fan's Notes
The Second Sex
The Maltese Falcon
The Song of Solomon (both the Toni Morrison version, and the Biblical)
The Book of Job
Leaves of Grass
War and Peace
The Iliad
Gilgamesh
The Tale of Genji
Catch-22
Le Morte Darthur
Madame Bovary
Blood Meridian
The Cantos of Ezra Pound
The Sot Weed Factor
Cosmicomics (Johnny Hart?)
Okay, that's enough. This is getting ridiculous.
UPDATE II:
Books:
Naked Lunch
The SCUM Manifesto
Animal Liberation
Robinson Crusoe
The Brothers Karamazov
The Gay Science
A Brief History of Time
Cartoonists:
Phoebe Gloeckner
Mark Beyer
Mort Drucker
Saul Steinberg
Tim Kreider
Julie Doucet
Clare Briggs
Geo. Herriman
Labels: comics vs. literature, poor uses of time