THIS WEEK IN COMICS! (1/26/11 – Latecomers and New Editions)
Tuesday, January 25, 2011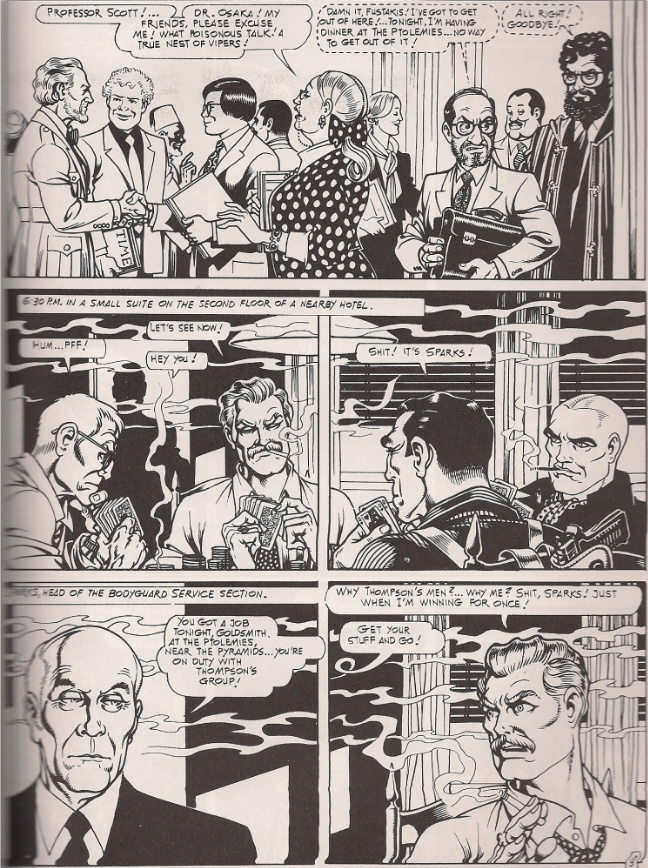 Just a collection of faces by Roberto "Magnus" Raviola, from Catalan Communications' 1987 edition of The Specialist: Full Moon in Dendera, one of the later (1982) installments of the artist's Lo Sconosciuto, your typical international man of danger. By that time, the Unknow(n) title character had moved to the back of his own stories, functioning in Dendera as a Golgo 13 type of character who zooms in and out of the action, finally shooting a bunch of people to resolve the ambling plot. So, mostly, it's an excuse for Magnus to draw a number of smooth, detailed, splendid characters discussing ancient Egyptian art and culture, and engaging in extremely dense political games. Maybe Catalan felt it gave the work more of a 'literary' quality – or maybe that was all they had access too? Mostly they published albums of Magnus' erotic Necron series, leaving the Specialist rather unique indeed.
And:
Stigmata: Yes, Diamond didn't list Fantagraphics' stack of releases last week, but here they are now, so take a look at your shop if you didn't see anything last time. I'd be particularly interested in this new edition of a 1998 piece by the great Lorenzo Mattotti and writer Claudio Piersanti, looking to be a real fever of lines in the service of hardscrabble living. Preview; $19.99.
FUC_ __U, _SS__LE: Blecky Yuckerella Vol. 4: The final collection of Johnny Ryan's four-panel weekly sunshine, and a remnant of the artist's interest in pursuing formerly mainstream avenues of cartooning, from magazine gags to comic strips to self-contained humor comics, and inhabiting them with his specific style. Samples; $11.99.
King of the Flies Vol. 2 (of 3): The Origin of the World: But then, there's always this Burnsian delve into the weird everyday. I liked this review of vol. 1 by Ng Suat Tong. Preview; $18.99.
The Complete Bad Company: This also showed up at Midtown last week, but I figured it'd pop in with Diamond before long – apparently a comprehensive collection of the much-admired Peter Milligan/Brett Ewins/Jim McCarthy series (1986-2002), 320 pages of Krool future conflict among freak soldiers from the pages of 2000 AD; $19.99.
Saga of the Swamp Thing Book 4: Being Vertigo's latest hardcover collection of '80s Alan Moore material, from back when booting the Comics Code seal resulted in not the designation of a ratings system but a declaration of Sophisticated Suspense. More pertinently to the content, this stretch of issues (#43-50) sees Moore's enthusiastic weaving of various & sundry DCU elements into an individualistic mechanism smash headlong into its monied cousin of the day, Crisis on Infinite Earths, a massively less delicate iteration of shared universe danger that basically foretold how Moore's own role in popularizing the superhero revamp impulse would be popularized in the future. "You shouldn't have come here" indeed! Wraps up both the American Gothic storyline and the participation of artist Stephen R. Bissette (save for in Moore's concluding issue #64 later on), with Stan Woch & Ron Randall handling a good portion of the visuals. John Totleben tackles an entire issue (#48) himself, as he occasionally would for the remainder of Moore's run, while Rick Veitch takes over as regular penciller in the next volume; $24.99.
The New York Five #1 (of 4): Meanwhile, in contemporary comic books Suggested (I presume) for Mature Readers, Local collaborators Brian Wood & Ryan Kelly appear at Vertigo for some slices of life among urban women living together and looking for something(s). Preview; $2.99.
Off Road: Sean Murphy is becoming increasingly recognizable for assorted projects cropping up at DC/Vertigo — he's the artist on Grant Morrison's Joe the Barbarian, which is where I suspect a lot of readers were introduced to his work — so here's a new IDW edition of the artist's 2005 debut graphic novel, originally published by Oni in the flush of bookshelf works appearing via the heyday of OEL manga, though not everything looked especially manga-like. I understand it's a possibly allegorical romp about male friends confronting their lives while attempting to extract a jeep from a swamp. Preview; $17.99.
Serial: Apparently a new crime comic drawn by Michael Golden, released in a signed edition under the auspices of Eva Ink, although I'm not sure if another version is or has been available. FBI partners face a serial killer and duality, written by Mitch Brown; $16.99.
The Killer Vol. 3: Modus Vivendi: Following up from last week, here's the newest Archaia Studios Press hardcover collecting super-assassin material by Matz and artist Luc Jacamon, which I believe covers vols. 6-8 of the French albums, bringing English readers right up to date; $24.95.
Magneto #1: Ah, this is the one in the bag where She-Hulk murders Willie Lumpkin, right? Wait, no – this is a supervillain comic written and drawn by Howard Chaykin, which is always worth noting. Preview; $2.99.
The Boys: Highland Laddie #6 (of 6): I'm kind of fascinated with how this Garth Ennis-fronted series occasionally splits off into side-series that serve to dole out information I presume the folks in charge don't want to spend six months sorting out, although they also don't necessarily want to upset the issue-by-issue pacing. The solution, it seems, is to declare a miniseries every so often that really serves to snap the larger series into a biweekly format, albeit with different artists and alternating storylines. They appear to be folded back into the 'main' series when collected as books, lined up as just another numbered volume of The Boys. Anyway, this and last week's proper issue #50 will hone your sight onto the series' endgame, set for issue #70, though a third and final breakaway miniseries is still upcoming. Preview; $3.99.
glamourpuss #17: In which events occurring on the date of Alex Raymond's death are further detailed, while John F. Kennedy appears elsewhere; $3.00.
Walt Disney's Comics #715: Continuing a number of anniversary-related releases from the ongoing Disney series (currently at Boom!) with something I don't think we've seen much of before – one of Danish artist Daan Jippes' recreations of late period Carl Barks stories — i.e. the material he wrote (and I think thumbnailed) for other artists in the late '60s and '70s — drawn according to Barks' scripts in a very Barksian manner. This one's a Junior Woodchucks story, Life Saver, originally from 1969. Don Rosa's in here too. Preview; $3.99.