THIS WEEK IN COMICS! (1/12/11 – Not too much of interest, so I'm gonna post a bunch of gross pictures.)
Tuesday, January 11, 2011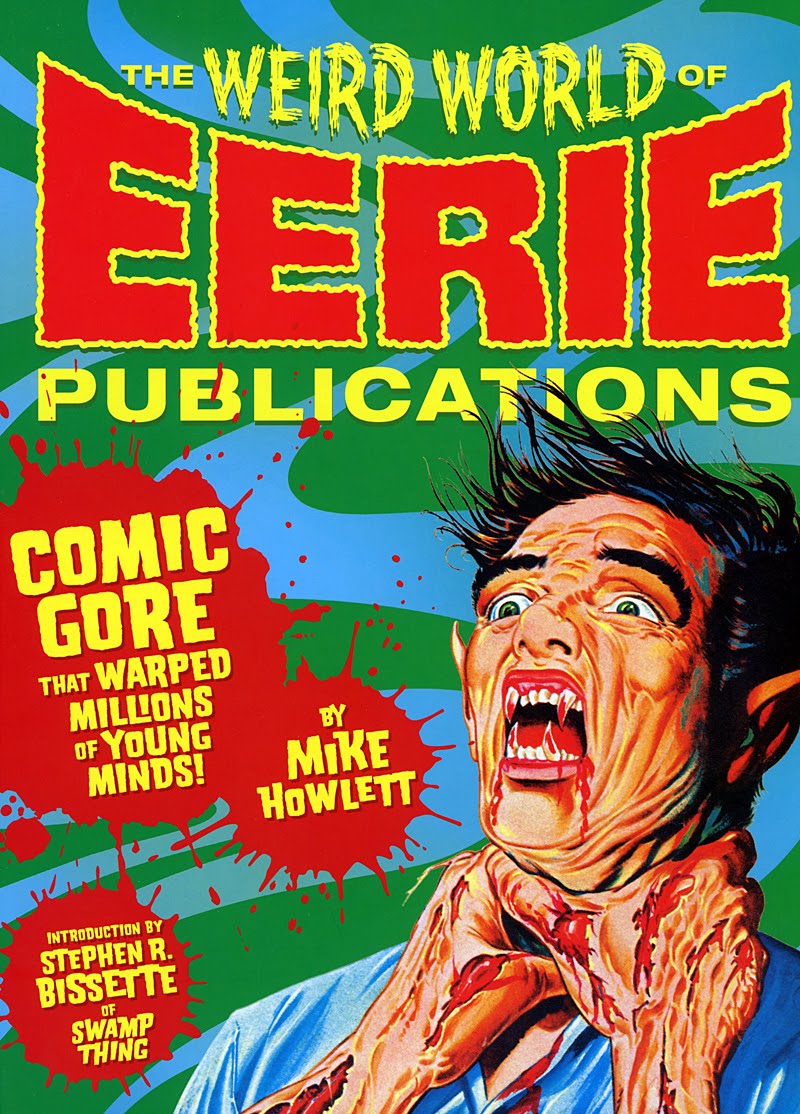 Above we see last weekend's reading material, Mike Howlett's The Weird World of Eerie Publications, a 2010 Feral House release focused on the one of the shadiest corners of the b&w horror magazine scene of 1965-83. It's a breezy piece of fandom enthusiasm, heavily illustrated; the meat of the book, for me, comes in a single 85-page chapter toward the end that walks you person-by-person through every artist that ever worked on Weird or Witches' Tales or Tales of Voodoo or any of the rest, doling our their backgrounds and explaining their approaches.
The vast majority of the Eerie Pubs stories were either retouched, gored-up reprints of pre-Code comics or remakes of pre-Code comics — 'scripted' by handing the artists photocopies of the original stories and asking them to accommodate the same narration and dialogue — which isn't exactly a recipe for critical adulation, so I suspect a bunch of Howlett's information will be new, particularly concerning the large contingent of Argentinian artists on the payroll. But even more interesting to me was the information on the all-important Eerie Pubs cover art, which was my first exposure to the stuff, via a gallery included on one of Something Weird's dvds a few years back.
Indeed, Howlett's interest in the material is not unlike that of a dedicated exploitation movie enthusiast, thrilled by the shameless money-making antics of bullshit magnate Myron Fass (NSFW – and boy, who would ever name a magazine FLICK, as if it'd look like "FUCK" on the newsstands, gosh that's silly!) while working through the actual magazines' tendencies to fail to credit artists or ruthlessly slice 'n dice and recycle material. Like a low-budget movie crew happening upon a prime, cheap location, the acquisition of a big cache of Johnny Bruck cover art from German sci-fi paperbacks would prompt the Eerie crew, in 1971, to not only launch a pair of similarly cheap sci-fi comics magazines but make over the existing horror lineup in sci-fi style, perhaps until the stash ran low. Sizzle before steak, etc.
Yet the lingering style (by which I mean the cover style) of the Eerie Pubs didn't come from Bruck, or moonlighting Selecciones Ilustradas artist and Warren contributor Fernando Fernández, or Argentine artist Oscar Antonio Novelle, whose work is detailed for the cover seen up top – no, I agree with Howlett that the 'face' of Eerie was one Bill Alexander, perhaps the most prominent black artist of the b&w horror magazines, albeit in terms of works displayed rather than credit given, which really made him nearly invisible.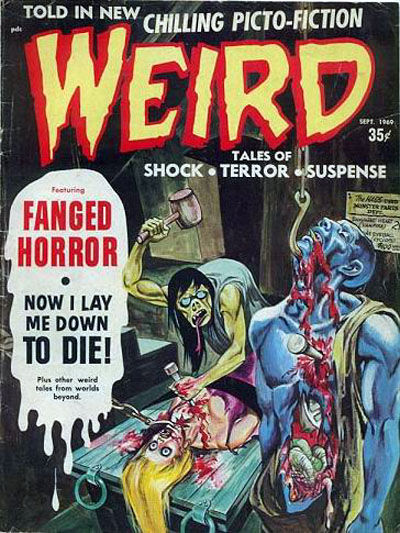 As you may know, the Eerie Pubs typically eschewed the stately menace of the Warren and Skywald covers in favor of blood-spattered mayhem; when I first saw some of these things I couldn't believe they were from the late '60s/early '70s, and were actually displayed on newsstands somewhere. These days I'm more taken with how cartooned they are, though it's important to note that Alexander was effectively following the style set down by originating editor and Human Torch creator Carl Burgos, who'd also worked with Fass on (among other things) the notorious M.F. Enterprises iteration of Captain Marvel. His was a straightforward approach: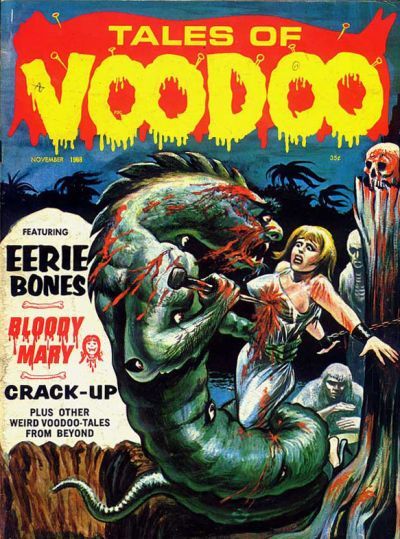 After that came maybe the best-known of the Eerie Pubs artists, well-known Jack Kirby inker Chic Stone, which exhibited a more uninhibited approach to covers and interiors: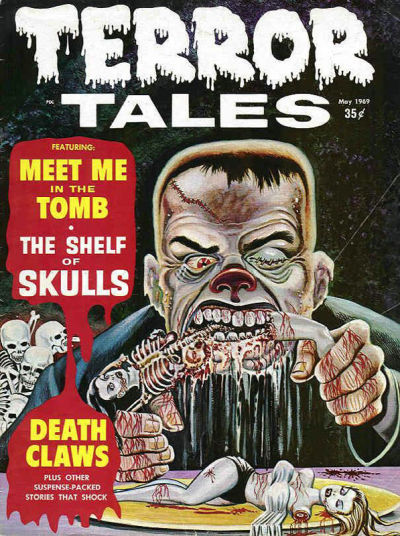 Alexander, as Howlett notes, was also an experienced collaborator, having drawn cartoon art for records published by Roy Milton and co-created the Bronze Bomber, a black superhero character, for the Los Angeles Sentinel, with the somewhat better-known artist Gene Bilbrew (of the Eisner studio, for a while). Both men also produced fetish comics for Irving Klaw, and Alexander set out on a long career of producing cover illustrations for smutty paperbacks. He also succeeded the late Bob Powell on a comics feature for Fass' men's magazine Jaguar — at this late point in his life, Powell is maybe best known for M.F. Enterprises' short-lived teen comic Henry Brewster — and instituted his own spicy Mary Worth parody in the like-minded Poorboy. It goes without saying that these comics seem strongly influenced by contemporaneous works in Playboy, particularly the Kurtzman/Elder Little Annie Fanny, which ties neatly into Fass' own publishing origins with the Mad knockoff Lunatickle.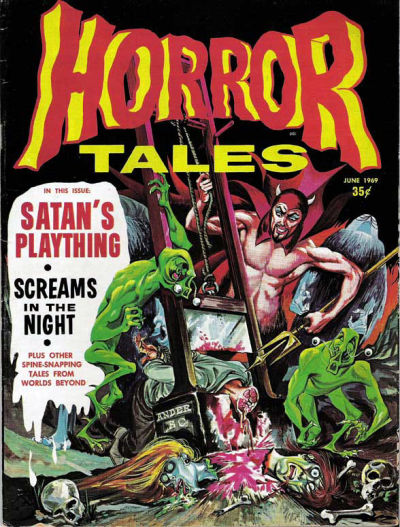 Howlett additionally notes that Alexander brought a certain sense of humor to his many Eerie covers, and I'd have to agree – even in this, his first work of the type (June '69), those wagging monster eyeballs and the terribly surprised look on the male head are pretty funny. But it also reminds me of something else, something even odder and gorier and even more (potentially) mysterious and (definitely) memorable happening at almost exactly the same time, halfway across the world.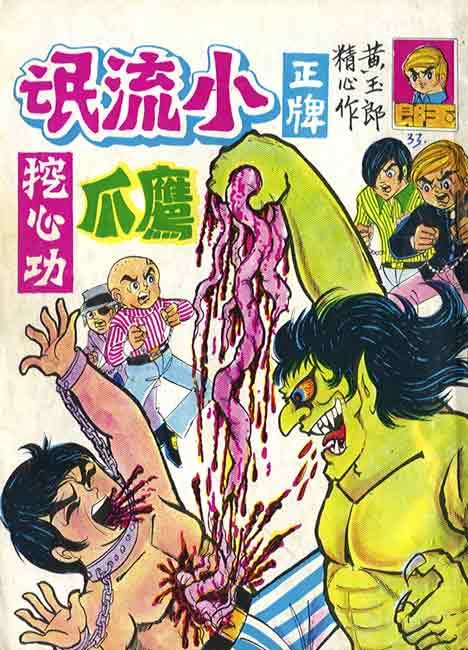 Yes! Of course! It's Tony Wong, Hong Kong manhua kingpin, here seen via the early days of his still-going Dragon Tiger Gate (aka: Oriental Heroes) series, established in 1970 under a title typically translated to English as Little Rascals. Or, if you're like me, whenever you see one of these covers you wave your fist in the air and shout "You rascals!"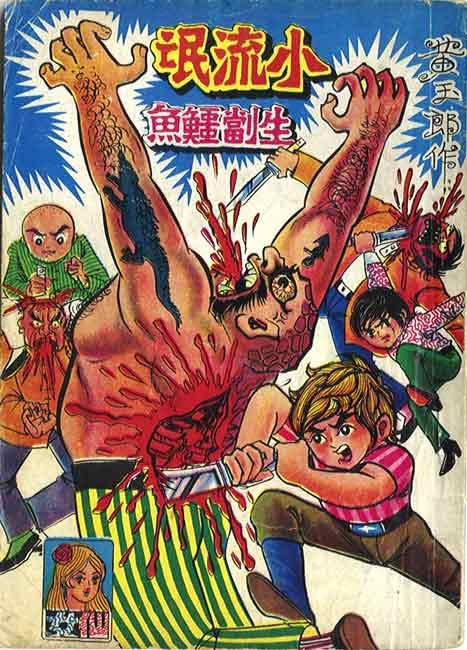 I've always preferred the theatricality of all this spraying blood, and if I had to make a choice I'd go with Wong's distressingly cute cartoon kid figures – it's disgusting, but energetic too, deliberately using horror imagery as a means of raising the visual and (I guess) narrative stakes of the series' no doubt extensive combat action. Amusingly, these covers landed Wong into some oddly pre/post-Code trouble with HK authorities, eventually beginning his own newspaper as a means of circumventing content regulation, not unlike the way Mad and Creepy and the Eerie Pubs presented themselves as magazines to evade the Comics Code. Still, it appears that the sheer aplomb of those early covers never quite returned.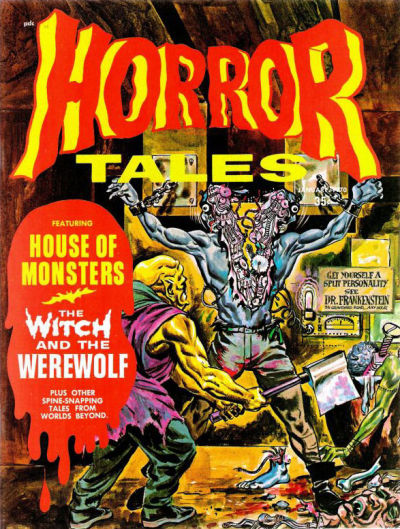 Likewise, even by 1970 Alexander's work had become a bit toned down; Howlett wonders if Fass' distributor hadn't been expressing concern about the cover content, and notes the occasional occurrence of robot-like gears in Alexander's work, replacing entrails. I see this as something of a joke, in that much of Alexander's Eerie Pubs cover work is joking; often, the action is set in some kind of workshop setting, presented and decorated as if the characters are on stage, performing some kind of grotty burlesque for our pleasure, comedic signs hanging in the background. When an axe splits a body, revealing steel stuff, it draws yet more attention to the artificiality of these activities, which maybe Alexander hoped to emphasize – the artifice inherent to whipping up cover art that, unlike his record cartooning, typically didn't have a damn thing to do with the reprinted/remade contents of whatever issue it landed on. It's irreverent, but toward the Eerie Pubs themselves.
Oh, sure, maybe I'm stretching. But: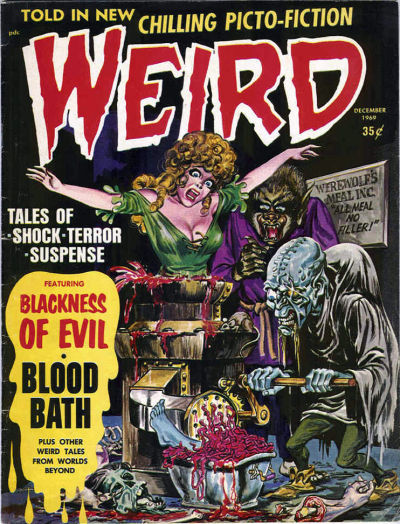 Ah! Nearly a decade prior to Larry Flynt — although Fass had already worked with Al Goldstein at that point — and with a firmer backing of Kurtzmanian satire! Obviously you've noticed that much of this art revolves around acts of violence inflicted on women, typically beautiful, typically unclad. I'm mixing metaphors, but here Alexander boils it down, maybe utilizing a bit of that career-long appreciation for the female form to demonstrate the workaday mechanisms of selling those magazines, hyping that gore. His tenure in horror comics ended in 1974, and he continued to work in sex and bondage-themed art until the mid-'80s, at which point nobody seems to know where he went. If his Eerie Pubs work is any indication, we can safely presume he kept his eyes open.
***
Also creeping into your line of sight:
Dodgem Logic #6: DATELINE: INTERNET – ALAN MOORE SHOCK MACHINE SHELLS COMIC PROVINCE TO RETURN FIRE OF GNASHING TEETH! WELL GO FUCK YOURSELF RIGHT BACK TRUE BELIEVER CAUSE NOW THE SORCERER OF SCANDAL IS FIGHTING MAD WITH AN XMAS HAMPER OF BITTER FRUIT AND DODGEM LOGIC IS HERE TO STIR THE UPCHUCK! NAMES ARE NAMED AND HEADS WILL ROLL AS AUDACIOUS AL SMASHES THE COMIC BOOK TREND – "I DON'T NEED TO STICK MY HEAD IN A SEWER TO KNOW IT STINKS!" EXTRA: AVIAN FLU ALIENS SIGN SEX MANIAC SEWER KING FOR SKIZZ MOTION PICTURE! MARVEL WRITER IN BEARD PLUGS SHAME! COLOR MOB HIT PIX AND TRAFFIC CARNAGE! RECORD REVIEWS!
And while everything above is an obvious lie, do note that this new-to-America issue of the Moore-fronted magazine project — distributed by Top Shelf — does promise a photo feature on "The possibility of Life on another World" with text by the Magus himself, while the great Iain Sinclair pops in for a feature of some sort; $7.00.
B.P.R.D.: Hell on Earth: Gods #1: Just the start of another episode for the Mike Mignola/John Arcudi/Guy Davis series, among the most reliable in serial genre comic book entertainment. This one promises to bounce around in time among characters, perhaps in the manner of The Universal Machine, still my favorite of the series' storylines. Preview; $3.50.
Casanova: Gula #1: Beginning Marvel/Icon's full-color, hand-lettered, more-stuff-in-one-issue representation of the second storyline for Matt Fraction's signature creator owned work, which I don't believe has ever been collected from its initial 2007-08 Image run. Fábio Moon is now the artist, and there should be some extras as well. Preview; $3.99.
The Savage Dragon #168: I do believe this concludes the current storyline for Erik Larsen's superhero smasher, generally worth dropping in on; $3.50.
Batman: The Joker's Asylum Vol. 2: Finally — and yeah, I didn't find an awful lot to interest me this week, I'm afraid — a collection of villain-themed comic book one-offs from a while back, notable for a Mad Hatter story with art by Keith Giffen & Bill Sienkiewicz (written by Landry Quinn Walker), in case you haven't seen the issue itself. It looks like this; $14.99.
Labels: Bill Alexander, Mike Howlett, This Week in Comics, Tony Wong