Kevin H and Jim Rugg interview
Sunday, December 12, 2010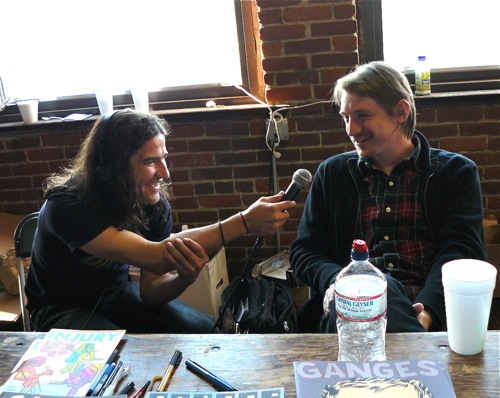 Hello and welcome to Comics Comics weekend edition. I am your host, Frankie The Wop. In an effort to promote more crossover blog warfare, I have asked Mr. Robin McConnell over at the beloved Inkstuds to host the audio portion this week's program.
I spoke to Mr. Kevin Huizenga and Mr. Jim Rugg at the Pittsburgh Independent Comics Expo (PIX) back in October of this year. Organized by Copacetic Comics and the Toonseum of Pittsburgh, PA, this event may be the beginning of something special. Very laid back, very beautiful location and all the indy comics you could hope for in western PA, it was a successful show. I think it may pan out to be an important show for midwesterners as there aren't too many indy shows for regional creators. (Pittsburgh is basically halfway between Chicago and New York for those who can't imagine it on a map)
I also spoke with many of the exhibitors and attendees at PIX. I will be posting those interviews hopefully in the coming weeks. Truth is, I've had some difficulty with the audio files and am trying desperately to preserve them. So, if I did interview you or your friends at the show, please forgive the delay in making them available. Thanks.
Click on the link below and head on over to Inkstuds. Make sure to open another tab while listening to the audio and check out Robin's tour diary where he visits Al Columbia, Steve Bissette and others. Sounds like a fun trip (I'm jealous!).
Kevin Huizenga and Jim Rugg in conversation. Annoyingly moderated by Frank Santoro.
Labels: audio, Jim Rugg, Kevin Huizenga, PIX, Robin McConnell