THIS WEEK IN COMICS! (11/24/10 – Heavy Topics, Light Comics)
Tuesday, November 23, 2010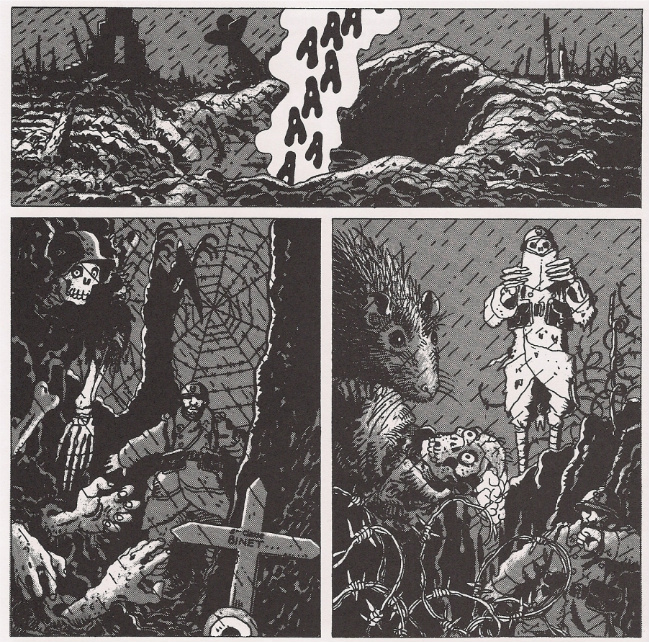 It's almost Thanksgiving in the U.S., which means it's high time for a big influx of Best of 2010 lists to start rolling in, particularly from quarters interested in sparking some holiday season gift-buying. In this exciting spirit of capitalism and pilgrims and shit, I'd like to present a few images from one of the best and most under-covered of many under-covered comics of 2010: Fantagraphics' English-language edition of Jacques Tardi's It Was the War of the Trenches. Doesn't it look like a mighty column of prestige?
Ah, but that's one of the interesting aspects of Tardi's human mosaic of WWI: its qualities as a comic. Fascinatingly structured as a 20-page overture leading into an illustrated prose account of wartime experiences by the artist's grandfather, and only then starting the work proper, a non-chronological barrage of soldiers' experiences told in wide panels, three per page, unwavering, in contrast to the overture's more dynamic usage of the page – everything in this book's makeup draws attention to itself as a comic. This might partially be attributed to its prolonged serialization, having begun in the early '80s and not finished for over a decade; indeed, the collection's earlier pages evidence not just a more varied manner of laying out the page but a certain interest in sensational 'comic' elements, such as the above nightmare of eerie spider webs and walking ghouls. American readers can draw some comparison to vintage horror comics; I don't know if Tardi read anything of the sort, but the narrator of his overture is depicted as a goggled, faceless figure, a nearly inhuman observer, like a stoic French cryptkeeper, presiding over a dug-out kingdom of death.
It's not long before the dramatic swooping arcs of warplanes are replaced with the work's more characteristic wide layouts, effectively flattening Tardi's portrayal of the world and forcing comparison of his soft, blob-like human figures to their surrounding environment, be it absorbing woods or ruined townscapes or nests of barbed wire. Drama is replaced by an observational quality, which isn't necessarily inherent to wide panels — many superhero comics of the early '00s used the same approach to emphasize visceral impact — but steadied here by Tardi's constant caption narration and ever-shifting attention, skipping from time to time, in and out of flashbacks, from person to person with no chapter breaks, no relief.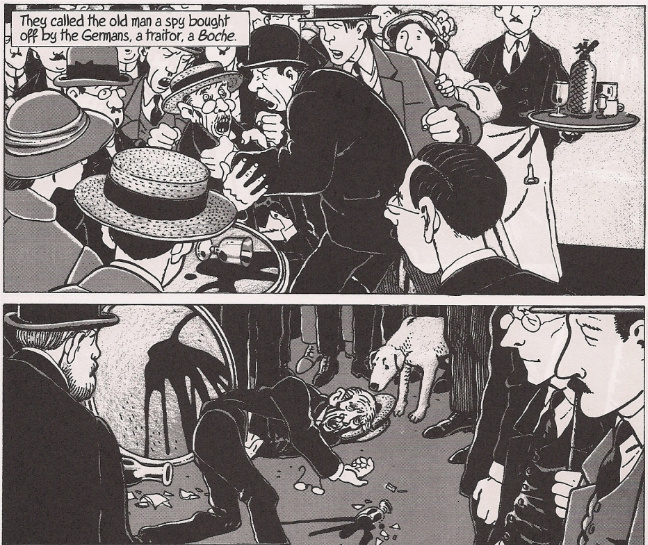 Even then, early pages of the type evidence some sensational conflict, again oddly reminiscent of the morgue-moldy classics of EC, and not just the proper Harvey Kurtzman war stories. Here we see the aftermath of a spontaneous 1914 eruption of patriotic fervor, directed toward the one man in the room who wouldn't stand and deliver the national anthem. Of course, Bill Gaines would then reveal that this man was secretly disabled… from defending our shores in wartime!! Tardi doesn't, but he also doesn't need to – the irony of this killing is evident from the endless suffering he's already positioned as the only character of war, and anyway he's about to get to a corpulent rat-killer getting his huge, dead belly converted into a hotel for vermin – as seen in RAW. Pleasant screams, boys & ghouls!
But there's a poignancy to accepting these early comic dramatics as they come, and seeing them fade into the mist of Tardi's ongoing story. A later vision of dead people sees a soldier confronted with women and children he shot down on a road – they are silhouetted by cracking lightning, but whole and human, and swiftly vanished into Tardi's long sky, scratched with rain and decorated with stabbing wood and iron wire. Gradually, we realize that humans are disappearing too – we rarely stay with any one protagonist for very long, and –to  more disquieting effect — we realize that we're not listening to the same narrator in the captions. This is an excellent effect best used in comics, since a cinematographic art would require the intrusion of actual voices, while prose couldn't match a shifting narrative point of view to such secure places depicting humans without risking great confusion. In comics, we can so trust the caption narrator — so firmly pasted over wide, obvious panels of clearly-drawn locales and suffering, blobby people — that the realization that the narration is insecure appears subliminally, alarming the reader without interrupting Tardi's flow, and this work is all about flow.
Sometimes the narrators appear on the page as well, sometimes meeting unfortunate ends. One breathes in a puff of lingering gas at just the wrong moment and ends up laying blinded on a bed, the war over for him. Without missing a beat, another narrator appears, without particular introduction. Gradually we realize what is being said.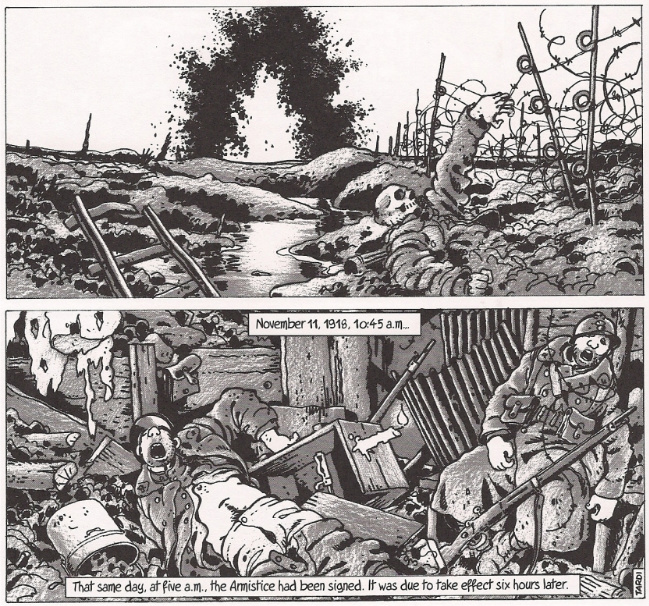 This is the final irony of the book: the penultimate narrator dying on the day of the Armistice, his speech interrupted by a last explosion. By placing him in the story, on panel, suddenly a creature of dialogue, or at least a monologue directed at the reader, Tardi emphasizes the source of his impressions: the memories of what seems from the action a very few surviving veterans. The recurring shock image of the book is a gruesome one: soldiers dipping their hands into the steaming entrails of dead comrades or enemy combatants. But it's also isolated in the bridging prose segment between the book's overture and proper action as a very specific memory on the part of the artist's grandfather, an infectious image that spreads throughout the book and recurs.
This is, after all, a story of stories being told, and so it makes sense for the final dead narrator to be again and immediately replaced by another voiceless caption narration, telling of the end of the war, not so omniscient as collective – another hypothetical soldier, or maybe several, or maybe all of them, recounting this collective nightmare. This is horror comics.
As to further joviality:
Special Exits: A decade-plus in the making project by underground veteran Joyce Farmer; observations of the declining health of her father and stepmother, and Farmer's own changing role in their lives. I know nothing more, but I'll be eager to look further. From Fantagraphics, 208 pages, hardcover. Preview; $26.99.
The ACME Novelty Library #20: Surely a series that needs no introduction at this point; know only that Chris Ware's 72-page cradle-to-grave account of Jordan Wellington Lint, bit player in the larger Rusty Brown narrative — brandishing no less than comics-format depictions of the very sensations of birth and death — is now available at your local Diamond-serviced comics specialty store. Naturally, it can't possibly be a complete account of a life, and in this way it suggest comparison to Daniel Clowes' Wilson, which was less broad in scope, but similarly cunning in squirreling away crucial bits of narrative information within its page breaks and time jumps. Yet Clowes, switching up his visual style page by page to (arguably) convey the illusory nature of 'knowing' another person, is considerably more mannered in visual style – Ware's approach, for all its ingenuity, is here turned towards conveying experiential, in-the-thick-of-it sensory qualities rather than an omniscient viewpoint, and thus his own tactical gaps in narration represents all the things we, the living, would perhaps rather erase from our own handsome hardcover stories; $23.95.
Miss Don't Touch Me Vol. 2: New from NBM, collecting the remainder (for now) of this 1930s-set drama concerning a young woman now trying to find a way out of the brothel to which her inquisitive nature brought her. Written by Hubert Boulard, with art by 'Kerascoët' (Marie Pommepuy & Sébastien Cosset). Preview; $14.99.
War is Boring: Bored Stiff, Scared to Death in the World's Worst War Zones: New in big book publishing comics, a 144-page NAL release of memoirs by David Axe, war correspondent and blogger (previously of the 2006 NBM release War Fix), with an emphasis on the addictive qualities of encountering violence in the midst of banality. Art by Matt Bors; $12.95.
Luna Park: Not a new release, but a softcover edition of a 2009 crime 'n history Vertigo original by prose specialist Kevin Baker, with the always-welcome art of Danijel Zezelj. A Russian army veteran runs with the Brooklyn mob; several times and trials are depicted. Attractive; $14.99.
The Boy Commandos by Joe Simon & Jack Kirby: Probably a somewhat lighter look at international conflict than the last few items on this list. A 256-page collection of exploits, 1942-43, including pertinent content from Detective Comics #64-73 (the culprit is… Hitler!), World's Finest Comics #8-9, and Boy Commandos #1-2; $49.99.
Salimba: Further, further into the Golden Age of Reprints! This is a new About Comics all-in-one edition of a 1986 jungle girl project written by the late Stephen Perry, with pencils by a pre-Concrete, pre-Dazzler Paul Chadwick, initially intended for Pacific Presents and then converted (I believe) to 3D by Blackthorne Publishing (and then de-converted for a 1989 collected edition). With a new prose story by Perry, illustrated by Stephen R. Bissette. A tenth of the print run (and Bissette's original art) goes to the Hero Initiative; $9.99.
Archie: The Best of Stan Goldberg: GOLDEN AGE OF ARCHIE. This one's from IDW, covering 152 pages' worth of material from the longtime franchise artist; $24.99.
The Sword: The Complete Collection: Being a big fat 624-page color brick of the entirety of the most recent Image series by Joshua & Jonathan Luna (also of Ultra and Girls), who've steadily built up their reputation just about entirely on creator-owned, serialized, color genre comic books, in a time where that particular iteration of the form seems to be drawing its final breaths. I haven't read it myself, but this story of a woman amped up and out for revenge from contact with a mystery blade appears to be the last we'll see of the duo for a while – Joshua is currently working on a solo comic, while Jonathan is taking a break from the medium; $99.99.
Batwoman #0: In which J.H. Williams III, surely among the most fascinating artists in comics-by-superhero-publishers, takes firm control over the newest high-profile wing of the sprawling Bat-family. And interestingly enough, it's an occasion for further collaboration, as Williams takes on co-writer W. Haden Blackman and co-artist Amy Reeder, a bright, clean stylist who first came to attention during the OEL manga wave of the mid-'00s (her final issue of Vertigo's Matt Wagner-written Madame Xanadu, and indeed the final issue of the series, is also due this week). By 'co-artist' I mean Williams & Reeder are apparently drawing separate elements of the page for this issue, although in the future they'll be switching off on storylines. Don't expect a continuation of Greg Rucka's not-quite-finished plots from Batwoman: Elegy, but maybe settle in for a bit of recap – this is intended as a self-contained fresh start for an ongoing series to begin early next year; $2.99.
Batman: Odyssey #5 (of 13): Seriously though – come February, between this, Batwoman, Batman, Inc. and the revived All Star Batman and Robin, the Boy Wonder, the Batcave is going to be the world capital of eccentric and potentially catastrophic alternate takes on an age-worn corporate superhero concept; $3.99.
Thor: The Mighty Avenger #6: FUCK YOU GOD OF THUNDER, STILL GOT MUPPETS! Er, I mean, this is the newest issue of a not-long-for-this-world Roger Langridge-written superhero series, drawn by Chris Samnee. You have until issue #8 to pay due homage. NANNY'S GONNA STOMP YA; $2.99.
The Weird World of Eerie Publications: Finally, your book-on-comics of the week, a 340-page hardcover Feral House study of the most lowdown notorious player in the b&w horror magazine boomlet following the success of Warren's Creepy and Eerie – indeed, it's said that Eerie's very title was an attempt to head off the future Eerie Publications' entrance on the scene, a presence eventually felt via lurid, goopy covers wrapping up pre-Code horror reprints (sometimes retouched to add more blood), remakes of pre-Code horror stories with new, lurid art by various Argentinian cartoonists and American Golden Age veterans, and even a few frenetic original gore shows by Chic Stone and others. Text by Mike Howlett, introduction by Stephen R. Bissette. Samples; $32.95.
Labels: Jacques Tardi, This Week in Comics