THIS WEEK IN COMICS! (11/10/10 – I'm holding out for the 15th anniversary edition of Empty Skull Comics.)
Tuesday, November 9, 2010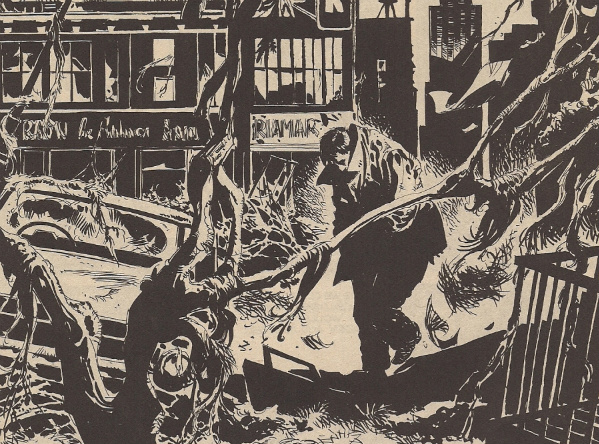 Last night I had a dream I was back in high school and I was giving a report on an unknown work of literature; the stakes were high, as I could see my teacher (whom I did not recognize) had already locked several students in cages. My selection was an obscure serial that ran in 2000 AD in the late-'80s, the title of which I cannot remember although I surely knew it then. My thesis was that it was an attempt by Tharg and his crew to incorporate the tropes of video games into the comics form, perhaps to cope with the new medium's threat to the magazine's young readership; the plot concerned a team of scavengers, a boy and a girl, hunting for tiny glowing orbs in a ruined mall, in fact the very mall I used to frequent years ago, which is odd in retrospect. Gradually, it was revealed that the scavengers' masters were the ones producing the orbs by murdering living things, in addition to collecting them. "It's about Thatcher's England," I can recall saying.
I don't know who the writer was. Me, I guess. The artist was José Ortiz, of the Spanish series Hombre (with Antonio Segura), and the British series The Thirteenth Floor (with Alan Grant & John Wagner), and many, many American issues of Creepy and Eerie and other Warren magazines of the 1970s, for which he was the most prolific artist in all of their history. Like most everything that was Warren in the '70s, it vanished into the dealer's tables and flea markets, but for an odd while he was mainstream comics. I should have told my teacher. Can I have an extension?
So:
The Extraordinary Adventures of Adèle Blanc-Sec Vol. 1: Pterror Over Paris and The Eiffel Tower Demon: Being Fantagraphics' fourth entry in its current effort at bringing the great Jacques Tardi to English, this time starting up a full-scale sub-series dedicated to the artist's long-running, rather droll evocation of turn-of-the-century fictions, centered on an awesomely controlled, never-smiling heroine prepared to tangle with any peril, be it a prehistoric creature or mad science. Now a major motion picture from Jean-Claude Mézières superfan Luc Besson! Collecting the first two (of a current nine) color albums, 1976, previously serialized in b&w in the Dark Horse/NBM anthology Cheval Noir (1989-90) and collected into individual color albums by NBM (1990). Preview; $24.99.
Toys in the Basement: Also Fanta, also French – an 8.5″ x 11.25″ hardcover presentation of a 2005 album by Stéphane Blanquet, a sort of plastic-body-horror take on Toy Story in which a pair of costumed ankle-biters journey to a land of mutilated playthings. At 32 pages, I believe this qualifies as the first-ever longform Blanquet work released on its own in English. Editor's notes and preview; $14.99.
Grandville Mon Amour: Or, if it's an English original in the European album style you'd like, I doubt you can do better this week than Bryan Talbot's 108-page follow-up to his splendidly deranged 2009 original Grandville, a blood-spattered funny animal allegory centered around a self-described Socialist steampunk Britain's paranoia toward the conquering mass of France, rather obviously a stand-in for a certain larger nation across the ocean. Detective-Inspector Archie LeBrock, badass Bauer-esque badger, is on the trail of an escaped terrorist, and while it's probably going to be considerably less baroque than the upcoming contemporary edition of The League of Extraordinary Gentlemen, the hurt's gonna come much quicker. Preview (scroll a bit); $19.99.
The Adventures of Professor Thintwhistle and His Incredible Aether Flyer: The Golden Age of Reprints will touch every heart, and warm every home. This week: a wholly unexpected Wildside Press reissue of a 1991 Fantagraphics collection of a 1980 Heavy Metal serial developed from mimeographed comics by SF veteran Richard A. Lupoff and Kitchen Sink regular Steve Stiles, who'd hooked up in the '60s fanzine scene. Satiric steam-powered voyaging beyond the Victorian stars, with an introduction by Neil Gaiman. I first saw this book sitting on a dealer's table at a mall convention when I was 11, sealed in plastic and marked Adult; I spent the next decade and a half thinking I'd dreamed it. Sample images here; $14.99.
Superman vs. Muhammad Ali: Aw – I dunno, man. It's a little hard to get worked up over this on the week Prof. Thintwistle returns for our souls. Still, there might be no finer bellwether for the state of superhero comics today than a full-sized 10″ x 13.25″ "facsimile" of a gleefully ephemeral 1978 superhero/sports hero special — a big 'n thick, high color, heavy-duty Collector's Edition that all but doubled as a $2.50 Neal Adams fun mat for you to roll your body across while switching channels from Challenge of the Superfriends to the Godzilla Power Hour — that's actually now a forty dollar deluxe hardcover fit for handling with plastic gloves. FORTY BUCKS?! If caught my kids within five paces of this motherfucker I'd send 'em to the pound. I – I don't have kids! Also available in a smaller, less expensive 7″ x 10.875″ hardcover sweetened with 16 or so pages of supplemental content; $39.99 (large) or $19.99 (less so).
Archie Firsts: MORE DELUXE REPRINTS. This one looks pretty neat – a 160-page Dark Horse hardcover compilation of notable Archie kick-offs, ranging from the title character's first appearance in Pep Comics #22 (1941) to pertinent contents from the first issues of Archie Comics (1943), Archie's Pal Jughead (1949), Archie's Rival Reggie (1950) and Archie's Girls Betty and Veronica (1951), plus other debut stuffs no doubt possessive to Archie. Expect Bob Montana; $24.99.
Eerie Archives Vol. 5: No José Ortiz yet, we're still in 1969-70. Another Dark Horse hardcover, collecting issues #23-27, featuring art by Ernie Colon, Reed Crandall, Tom Sutton, Jerry Grandenetti, Mike Royer, and Tony Tallarico. Preview; $49.99.
The Smurfs Vol. 3: The Smurf King: Formerly known in English as King Smurf; the title story to the 1965 sophomore album (Le Schtroumpfissime) in the mighty Peyo/Yvan Delporte series. To my mind, this is where things really start to hum in terms of often startlingly caustic (yet never quite off-putting) social satire, blended smoothly into gag-laden comedy/adventure scenarios. Papa Smurf leaves the village on a journey prompting the lil' blue folks to engage in a horrible burlesque of democracy that eventually results in a totalitarian monarch calling the shots and a woodland resistance forming. "It's awesome, noisy slapstick paired up with bizarre fits of witty sophistication, all in a crispy pretzel cone of rampant anti-authoritarianism," as I once wrote. Pikes crash though widows, bombs fly into buildings, and tomato guts stain the white caps of our pitiless Smurf brothers. Much more from me here, with images culled from the 1978 Random House edition. Next up is I believe the US debut of The Smurfette, hell-bent on overturning an entire hamper of gender values on your precious scamp's head; $5.99 ($10.99 in hardcover).
Classics Illustrated Vol. 11: The Devil's Dictionary and Other Works: Also from Papercutz – Gahan Wilson! Illustrating text by Ambrose Bierce! Comics too! Preview; $9.99.
Two Generals: A new original graphic novel from Scott Chantler, of the historical fiction Northwest Passage. This one's published by McClelland & Stewart, concerning the WWII-era experiences of two Canadian military men, partially drawn from his grandfather's own diaries. Research blog here; $24.95.
T?noharu: Part Two (of Three): I enjoyed the 2008 opening installment of this hardcover book series by Lars Martinson — published by his own Pliant Press and distributed by Top Shelf — concerning a young man's isolation and observations while teaching English in rural Japan, so I'm glad to see a new installment appear. Preview; $19.95.
Vagabond (VizBig) Vol. 9: Swords! Conflicts! Vols. 25-27 of the series! Only two more, maybe; $19.99.
Twin Spica Vol. 4 (of 16): Space! Emotions! Cuteness! Vertical is in the for long haul; $10.95.
Biomega Vol. 4 (of 6): Shoot them all, motorcycle justice! Tsutomu Nihei; $12.99.
glamourpuss #16: History! Personality! I can't think of the last time an entire issue worked on its own, but this ongoing Dave Sim project has gradually evolved into a truly fascinating experiment, a damn near Godardian marshaling of preexisting media content using the only-in-comics device of inking as a means of melding the student to the object of his study, and then transforming himself into something more like it as a means of adequately addressing its historic and aesthetic totality. Of course, they all drew women, or in the thrall of women, Sim from fashion magazines, sinking and stinking and snarking hard in contemporary media overload, and the photorealist comic strip artists under the near-mythic Glamour of celebrity and lust and envy. Don't kid yourself with sketchbook notions – this is as rigorous a top-to-bottom interrogation of the form as anything seen in Cerebus, pure Sim, as difficult and off-putting and fascinating as he can get; $3.00.
JLA Deluxe Edition Book 4: Concluding DC's comprehensive hardcover reprint of, believe it or not, one of the stranger projects in writer Grant Morrison's catalog, in that it's proven to be mightily but quietly influential. Launched in the dog days of the late '90s, JLA proved to be a popular blend of the old fashioned idea of just sticking all the most popular superheroes on a single mega-team and a rather contemporary desire to gradually expand its field of impact. Later popular works like The Authority and The Ultimates would harness the power of Impact to offer "widescreen" action of the sort you'd expect from a slick, big-budget action movie, but JLA was a critical predecessor, matching fist-clenched '90s ultra-muscle style with characters as weighty as their arms and sprawling plotlines to fit; typical of Morrison, it was an in-comics, history-literate approach, if quite deliberately evasive of the kind of character analysis he's typically known for.
Also somewhat typical of Morrison's projects, the run was troubled by uneven art, with primary agent Howard Porter rendering many of the big sequences in a stiff, blocky manner. I'm convinced that this lacking visual element is what's kept JLA a ways behind in renown: the immediate, visceral tag of a Bryan Hitch is absent. Of course, the series also had to shoulder the burden of character-specific revamps it couldn't have wanted to put up with, but had to by virtue of its in-continuity flagship position; even the most sympathetic of '90s children sigh when Blueberry Ice Superman crackles across the page.
Mind you, this book takes place after all that, and even goes a little further – the World War III storyline wraps up Morrison's primary tenure, and then its on to the very fine 2000 original graphic novel and comparative object lesson JLA: Earth 2, a discreet storytelling unit gifted with artist Frank Quitely and as in-the-gut effective as you'd like. Also included is Morrison's three-issue 2005 run on JLA Classified with Ed McGuinness & Dexter Vines, a frantic shotgun spray of a story that served as a prelude to a very different Morrison project, Seven Soldiers, and thereby demarcates the border between DCU showrunner Morrison and the Batman writer we know now, tending to his own patches in the quilt of continuity; $34.99.
Vampirella Masters Series Vol. 1: Grant Morrison & Mark Millar: Apparently a straight ahead Dynamite reissue of the 2006 Harris Comics softcover Vampirella: The Morrison/Millar Collection, with the back cover art now on the front, collecting materials from 1996-98 (actually co-written with Steven Grant for about half the time). To be frank, and despite the talents of Amanda Conner and Kevin Nowlan, these are some of the worst comics ever to bear Morrison's name, although it's still worth flipping to the back for a vintage '97 interview in which a callow Millar dismisses narrative captions as "so eighties" and the team cheerily cops to plotting out issues on the backs of beer napkins and bus receipts passed back and forth, to be transcribed at home; $24.99.
Grant Morrison's 18 Days: Some concepts get more complex, however. A few years ago Morrison hooked up with parties from the now-defunct Virgin Comics to plot a fantastical animated iteration of the Mah?bh?rata, specifically (I presume) the bits pertaining to the Kurukshetra war (for you completists out there, Virgin also produced a fantastical comic book iteration of the Ramayana, titled Ramayan 3392). The animation has not yet materialized, but Dynamite nevertheless brings this 120-page compilation of Morrison's concept materials, with accompanying art fronted by Mukesh Singh, one of the more striking of Virgin's India-based artists. Samples; $24.99.
Batman: The Return of Bruce Wayne #6 (of 6): In which Morrison and Batman return to the present of this week to finally wrap up the parts of this movement of Morrison's very long Bat-story that weren't wrapped up in Batman and Robin #16 last week, although other parts might not be wrapped up until the Batman: The Return one-off next week, which also sees the debut of the next movement, Batman, Inc. #1, which, god willing, will remain 100% wrap-up free. Art by Lee Garbett, Pere Pérez, Alejandro Sicat & Walden Wong. Preview; $3.99.
Minutes to Midnight: Twelve Essays on Watchmen: Your book-on-comics (ESSAY FORMAT) of the week, in which publisher Sequart and editor Richard Bensam presents a dozen perspectives on the Alan Moore/David Gibbons landmark, including pieces by Grant Morrison: The Early Years author Timothy Callahan and How to Read Superhero Comics and Why author Geoff Klock. Contents and sample by Julain Darius here; $19.95.
Will Eisner: A Dreamer's Life in Comics: Your book-on-comics (BIOGRAPHY) of the week, a Bloomsbury USA publication of author Michael Schumacher's survey of the man and his life and his art; $28.00.
Inkstuds: Interviews With Cartoonists: And finally, your book-on-comics (INTERVIEW/CONFLICT OF INTEREST) of the week, a 296-page Conundrum Press compilation of interviews culled from Robin McConnell's radio program. Subjects include Jaime Hernandez, Joe Sacco, Carol Tyler, Kim Deitch, Mary Fleener, Seth, Chester Brown, Gary Panter, Barron Storey, David Collier, Kate Beaton, Sammy Harkham, Anders Nilsen, Jillian Tamaki, Marc Bell, Rebecca Dart, Jordan Crane, Gabrielle Bell, Ted Stearn, Françoise Mouly and more, including a Comics as Art roundtable with Tom Spurgeon, Dan Nadel (who is an editor of this site) and Jeet Heer (who is a contributor to this site). Introduction by Heer; $20.00.
Labels: Joe's dream journal, José Ortiz, This Week in Comics