People Say There Are No Stupid Questions
Thursday, September 30, 2010
Let's see if we can put that theory to rest.
But first, a quotation:
In the course of the last fifty years the painters who freed themselves from the necessity of representation discovered wholly new fields of form-construction and expression (including new forms of imaginative representation) which entailed a new attitude to art itself. The artist came to believe that what was essential in art—given the diversity of themes or motifs—were two universal requirements: that every work of art has an individual order or coherence, a quality of unity and necessity in its structure regardless of the the kind of forms used; and, second, that the forms and colors chosen have a decided expressive physiognomy, that they speak to us as a feeling-charged whole, through the intrinsic power of colors and lines, rather than through the imaging of facial expressions, gestures and bodily movements, although these are not necessarily excluded—for they are also forms.
That view made possible the appreciation of many kinds of old art, and of the arts of distant peoples—primitive, historic, colonial, Asiatic and African, as well as European—arts which had not been accessible in spirit because it was thought that true art had to show a degree of conformity to nature and a mastery of representation which had developed for the most part in the West. The change in art dethroned not only representation as a necessary requirement but also a particular standard of decorum or restraint in expression which had excluded certain domains and intensities of feeling. The notion of the humanity of art was immensely widened. Many kinds of drawing, painting, sculpture and architecture, formerly ignored or judged inartistic, were seen as existing on the same plane of human creativeness and expression as "civilized" Western art. That would not have happened, I believe, without the revolution in modern painting. [Italics mine.]
That can be found in Meyer Schapiro's 1957 essay, "Recent Abstract Painting", collected in his Modern Art: 19th and 20th Centuries.
It's a common tactic of comics apologists to refer to comic strips as inherently "modernist," but while that's usually good for provoking solemn nods of satisfied agreement from fellow travelers, I've never really understood just what is meant by the claim. It strikes me that Schapiro may here point to a possible answer (or at least the kernel of one), and that, say, Picasso's fondness for Rudolph Dirks's Katzenjammer Kids might spring from the same source that led to his appreciation of African sculpture.
So here are my questions: Did abstraction's widening of the artistic palate lead to a friendlier reception for early American comic strips' frenzied expressionism? And was the popularity of comic strips in any way (indirectly or not) linked to the modernist revolution in painting? Or what do people mean when they link comics to modernism?
There are a few possible problems here that even someone as ignorant as I am can see, one being that you don't need to be David Kunzle to know that caricature (which is at least somewhat expressionist in its very nature, I'd say, though perhaps I'm wrong to think so) has been around a lot longer than the twentieth century. (This is not even to go into the whole cartoony/realistic, literal/freestyle, naturalist/mannerist debate within comics itself.) And it is important to note that Modernism and abstraction are obviously not synonyms.
In fact, interestingly enough, the graphic novel's godfather, Rodolphe Töpffer, makes an unexpected appearance in another of Schapiro's essays, "Courbet and Popular Imagery: An Essay on Realism and Naïveté", in which the art historian quotes Töpffer writing in praise of the vivacity and artistic intentions of children's drawings, as well as of the statues of Easter Island, despite the fact that "their hideous features and strange proportions resemble nothing in nature and hardly make sense." Indeed, Schapiro credits Töpffer as in large part the creator of the new taste for naïve art in the mid-nineteenth century (both through his own work, and through his criticism), and thereby, an audience fit to appreciate Gustave Courbet's Realism. (Which then led the way to Impressionism, Symbolism, etc., etc.) So it all goes round and round.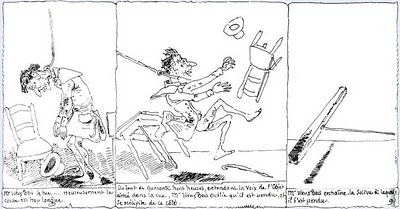 Anyway, I don't really know what I'm talking about. But a lot of our readers probably do, so step up and school me, please.
Labels: comics vs. art, Drawing Styles, Meyer Schapiro, Pablo Picasso, Rodolphe Töpffer, Rudolph Dirks