THIS WEEK IN COMICS! (9/29/10 – Not one 32-page comic book I want to buy.)
Tuesday, September 28, 2010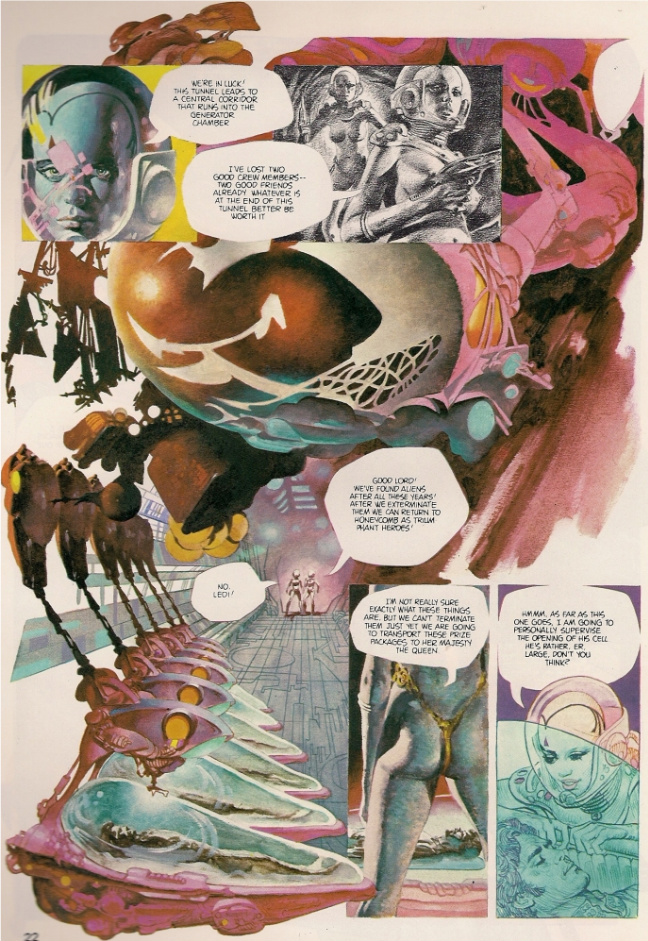 No major insights here, just a little tribute to Spanish cartoonist Fernando Fernández, who passed away last month. A longtime artist for the Barcelona-based Selecciones Ilustradas agency, Fernández illustrated numerous romance and war comics for the British scene in the '50s and '60s, as did much of the SI crew, although he's probably best remembered in North America for his odd contributions to Warren's Vampirella magazine in the '70s, "odd" because by that point Fernández was creating entire stories himself, then using SI as a means of licensing his work to assorted international magazines, whether whole or broken up as serials. Needless to say, he also turned in an obligatory Heavy Metal appearance when the time came, via his Zora and the Hibernauts album, pictured above as collected in 1984 by Catalan Communications. This is exactly what comics don't look like anymore; I have pinpointed it through science.
And here is what comics do look like:
You'll Never Know Book 2 (of 3): Collateral Damage: Being the follow-up to one of the most widely appreciated comics of 2009, Carol Tyler's expansive portrait of life rippling from the submerged stone of her father's WWII experiences. I understand this volume will incorporate an expanded presentation of Tyler's also-widely-appreciated 1994 short The Hannah Story directly into the larger work. Preview; $24.99.
Howl: A Graphic Novel: This is a HarperCollins tie-in to the now-out James Franco-starring motion picture, noteworthy for the participation of Eric Drooker (who designed animation segments for the film, and previously collaborated with Allen Ginsberg on the 1996 book Illuminated Poems) as illustrator. Preview; $19.99.
Hereville: How Mirka Got Her Sword: Keeping tabs on mainstream comics – this is a new hardcover Abrams collection/expansion of a youth-targeted webcomic by Barry Deutsch, newly colored by Jake Richmond. An Orthodox Jewish preteen seeks adventure in the community, and finds it. That's all I know, but it looks nice; $15.95.
7 Billion Needles Vol. 1 (of 4): Your high-profile manga release for the week, this time Vertical's kickoff for a 2008-10 Nobuaki Tadano sci-fi thing about an interstellar being taking up residence in an antisocial schoolgirl's body, all for the sake of defending humanity from hidden invaders. I can't say this is a particularly good series — if we're going for comparison, Hitoshi Iwaaki's similarly conceived and recently reprinted Parasyte is superior on every conceivable level — but it's noteworthy, I think, as an example of a contemporary seinen manga, ostensibly aimed at teenagers and up, that registers as comparatively 'mature' primarily through being a rendition of youth manga tropes aimed at older readers (as opposed to something like One Piece, which is actually aimed at kids).
Anti-social Hikaru learns several important lessons about making friends — and the alien inside her is characterized as an annoying but ultimately helpful adult figure, like a good teacher she can't escape and learns to appreciate like good kids do — but the tone of the work seems less about imparting banal social lessons than lavishing attention on the sensitive, moody girl herself, prone to taking baths (two in this volume alone!) and sitting in class wearing oversized headphones (which seems to have become kind of A Thing among otaku-targeting illustrators). My understanding is that the project's serializing magazine, Comic Flapper, indeed specializes in stories about young girls, and to my mind the specific content of the series flatters the paternal, blooming instincts male superfans cultivate for particular female characters via often tinny, soppy dramas and fantasies (fellow Vertical series Twin Spica comes from the same anthology, but doesn't give off so much feeling). Unfortunately, this not-uncommon element is still the most interesting part of the book; $10.95.
Barney Google: Gambling, Horse Races, and High-Toned Women: A new Craig Yoe/IDW compilation of various 'n sundry stories and materials from/relating to the Billy DeBeck strip. It's 224 pages, hardcover; $39.99.
MAD's Greatest Artists: Sergio Aragonés: Five Decades of His Finest Works: MAD-related book #1 of the week, I believe the second in Running Press' series profiling the humor magazine's top contributors, after 2007's The Completely MAD Don Martin. The format is now a Greatest Hits collection in a 272-page 12.1″ x 9.3″ hardcover, rather than a comprehensive slipcased coffee table hazard; $29.95.
Al Jaffee's Mad Life: A Biography: And #2, a new It Books biography by Mary-Lou Weisman, with 65 illustrations by the artist; $27.99.
Eerie Archives Vol. 4: More comics magazines! This latest of many Dark Horse volumes covers issues #16-22, kind of a quiet period in Warren history, featuring Johnny Craig, Tom Sutton, Reed Crandall, Ernie Colon and Tony Tallarico. Sample (in case you're wondering why Cousin Eerie is just standing around on pg. 1, know that's it's actually an attempt to paste over the august presence of Christopher Lee, in that Warren was reprinting material from the 1966 comics collection Christopher Lee's Treasury of Terror at the time; original here); $49.99.
Doctor Solar, Man of the Atom Vol. 1: But it's not all fifty-dollar reprints for Dark Horse, at least not when there's a new comic book series to tie these ancient funnies into – hence, a less expensive softcover reprint of the publisher's 2005 Archives collection of issues #1-7 of original '60s Gold Key material. Preview; $19.99.
The Occult Files of Dr. Spektor Vol. 1: Of course, hardcovers come first at Dark Horse. This is a different (later) Gold Key series (with a Solar guest appearance later on) created by Donald Glut and artist Dan Spiegle, although I think this project restricts itself to the 1973-77 ongoing series drawn by Jesse Santos. Collects issues #1-7 of detective-horror comics crossbreeding. Samples; $49.99.
Daredevil/Echo: Vision Quest: Hey, remember the time five issues of Daredevil were devoted to experiments in narrative collage on the theme of misconception-by-sensory input between the fight scenes? That totally happened in 2003. David Mack is the artist, and this is a new Marvel hardcover; $19.99.
Absolute Promethea Vol. 2 (of 3): Hey, remember the time Wildstorm… you remember Wildstorm? Yeah, remember the time one of its imprints devoted 11 issues of an ostensible superhero comics to a prolonged comics-format essay on Kabbalistic magical realms? Then again, writer Alan Moore always insisted that Promethea the series was essentially an elaborate excuse to get this material out in the world, so clearly it's a different situation from Daredevil, not that it didn't try the patience of readers eager for progression in the ongoing series storylines all the same. Here's that whole sequence in an oversized slipcased hardcover, with bonus production materials related to artists J.H. Williams III & Mick Gray; $99.99.
Sparky: The Life and Art of Charles Schulz: Finally, a(nother) book-on-comics selection, this time a Beverly Gherman-written biography-for-kids centered on the Peanuts creator. "A great recreational read as well as an adequate source for reports," raves the School Library Journal. From Chronicle Books; $16.99.
Labels: Fernando Fernández, This Week in Comics