Right Thing The Wrong Way Pt. 1
Monday, September 27, 2010
Greg Cook and TD Sidell were kind enough to offer us some excerpts from their catalog for "Right Thing The Wrong Way: The Story of Highwater Books", opening October 1st at Fourth Wall Project in Boston. Greg did a great job on the oral history. So here's one excerpt and there'll be another on Friday. We pick up in 1997, as Highwater dude Tom Devlin published his first full book…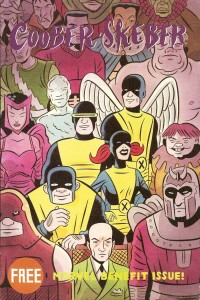 Coober Skeber 2: Marvel Benefit Issue debuts at San Diego Comic-Con in July 1997.
Tom Devlin: After I did that first anthology, and it was really kind of aggravating, and hard. But like anything, the sense of accomplishment once it was done was great. The harder something is, when you actually complete it and look at it and see that it worked out somewhat, there's a bit of a rush. So I started to try to come up with what I'd do next.
I very specifically remember that I had three ideas. I remember talking to Ron and he said, "You should do superheroes." Because my ideas were to do a children's activity book and each cartoonist would do a page. It would be a puzzle page or a maze or all the typical stuff that would be in children's activity books. The other one, actually the one that I kind of really wanted to do, was do an oversized Sunday newspaper and everybody would do sort of a classic strip or something they really liked in their style. Everybody would do a cover version. I remember partially the reason I picked that is that Ron was a really big Popeye fan and so I wanted Ron to do Popeye. I was a really big Pogo fan, so I was going to draw a version of Pogo. Then everybody else would just have to do whatever. And then the other one was superheroes.
I had done a bunch of signings at The Million Year Picnic. And it was a bunch of alternative people, like Tom Hart, Jason Lutes, Seth I think had been there by then. Just everybody you think of who's still around who was doing alternative comics. There were like 15 people involved in five or six signings. We would just hang out and we'd always end up talking about superheroes. That was something I thought was funny and irritating. All these people who are trying to do something new still have these deep roots in superheroes. I wanted to do the superhero book to sort of be the end of that. Okay, you'll all do your superheroes and that will be the end. Of course, it didn't work out that way.
It was offset printed. I think 3,000 copies. I'm pretty sure I borrowed a little money from my folks to do that. I'm not totally sure, but I think so. It couldn't have been very much. Like it must have been $1,000 or something. Of course, it was all Marvel superheroes. Around that time Marvel had declared bankruptcy. The joke was to do the "Marvel Benefit Issue" and it would be given away for free to help them raise money. It says "free" on it, so there's actually no way it could benefit Marvel. There would be no money being made. It was a publicity stunt.
Jef Czekaj: I remember Coober Skeber, the Marvel one, it was me, Tom, [our friend] Scott, and I think Mat Brinkman. We had to drive up to [the printer] Quebecor to pick up the books. We had the Fort Thunder van, which was just a really sketchy old van with the words "Fort Thunder" spray painted on the side. We got up to the border and the border guard was asking us questions. We were pretty sketchy looking. Mat had a mohawk, and there was just a bunch of other dudes in this van, really sketchy looking van. She asked us, "Have any of you been arrested?" And Scott said, "Well, it depends what you mean by arrested." Then we got pulled over, separated, and basically interrogated. I think Scott had been arrested, but not charged with anything, so that was why he was confused. But it definitely added a lot of time. We pretty much just drove up there, got the books, and drove back. We were coming back pretty late at night, we got to the border, and the border guard saw that the van was full of stuff. I assume Tom had the appropriate paperwork. But the border guard wanted to make sure that the book said "printed in Canada." So we had to pop open a box of the books. We were all so scared that he was going to turn to a Henry Darger parody, with all these naked little girls. We were like, "Please don't let this guard turn to that page." Luckily he did not.
Megan Kelso: Tom showed up in San Diego with that "Marvel Benefit" book, which was really amazing and everybody was just blown away by it. Most people, especially on the West Coast comics scene, didn't know who he was or what his deal was. He was just this guy who showed up and he handed these books out for free. And the books were really funny and cool and really well produced. He was kind of the talk of the convention that year in terms of the small press alternative scene. I think he intended to make a splash and he really did make a splash. It would appear to be overreaching and yet somehow it worked and impressed people. I mean, giving it out for free. It wasn't an expensive book, but it was square-bound and it had a color cover. I just remember he was sort of like Santa Claus walking around with this big bag of comics and giving them out. And Brian was with him. He brought Brian and his brother. They were the new boys in town. I just remember everyone was talking about them.
Devlin: Joe Chiappetta was giving them away from his table sort of secretly and people knew to go over there. Because I didn't have a table. I went down with my brother and I stayed at a youth hostel with my brother and Brian Ralph. And we just walked around. I'm not even sure, we must have kept the boxes in my brother's car or something. Then we'd walk over to the convention center – it was a lot smaller then, it wasn't where you'd have to walk two miles or something. We'd carry a box or two over and just put them behind Joe's booth. Then we'd get a handful and walk around and give them to people. People loved it. People went crazy for it. I gave a copy to some guys over at the Marvel booth and one of the guys joked, "I'll give this to our lawyers." I think my intro was "I did this to help Marvel out in its time of need." There was a write up in Wired magazine. I'd actually met the journalist in Chicago, maybe the previous summer or something. He was a friend of Jessica Abel's. She probably pressed it into his hand and said, "Here's something you can write about." At the time, being in Wired would be pretty much the coolest pop culture thing you could do. It would be like being in Boing Boing now or something.
Ron Regé: That was the first thing I had published, I'm pretty sure, that wasn't Xeroxed, that Spider-Man story. I guess that would have been the first thing I did for Tom…Marvel was going out of business. And it was Tom's joke. So much of it is Tom having wiseass joke ideas about everything. Which is great. I just chose Spider-Man. The funny thing about that story is I just copied it. It's just verbatim a Spider-Man story. And I didn't even really do anything. Instead of using the '60s language that they used in the story I put in a bunch of swear words and made it sound more contemporary. It's funny looking back now, that's the only time I did superheroes and it's the only time I ever did anything funny. Maybe if I had chosen to do either one of those things, my career would have been a little bit different.
Devlin: After that I decided, well, now I'm a publisher, now I have to plan some projects. I had forged friendships with a bunch of people by then who were working on stuff. And were sort of ready for the next stuff. Ready to do things. It's not like it was an early time for the graphic novel exactly, but in a way it was. People had been publishing graphic novels. Drawn & Quarterly had already done some. Fantagraphics of course. I had the idea that I would just be a graphic novel publisher. That's what I was going to do. I was going to make graphic novels and I was going to champion them. Eventually one of them would be a big success. It might not happen right away, but it would be undeniable. I was going to continue to publish these great comics and eventually one of them would catch on and be like the next Maus or something. I did pretty much believe that.
I was definitely working from the classic alternative comics model, which is: this is an interesting artist and I will just trust them to do what they do. And that's enough. And help them do what they do. And then people will eventually come around and realize that this amazing work is going on. I was pretty intentional about the people I was working with. I did really feel like — which is kind of funny to think about it at the time – that Fantagraphics and Drawn & Quarterly were the establishment in a way. Drawn & Quarterly hadn't been around that long at that point really. But it had sort of the big successes with Chester and Seth and Joe Matt and Julie Doucet. It was established enough, they had that sort of thing. Fantagraphics, obviously, had been around for a while and was a big deal. I did really believe that these were a bunch of great cartoonists that these publishers are not going to publish. These people do not fit into what they do. If you look at James Kochalka and Brian Ralph and Greg and Ron, and even Megan.
There was a certain cartooniness that was sort of atypical too, in Ron and Greg's work. That's where the whole Cute Brut thing came out of too. There was a kind of tweeness to it, which was a movement that I always really liked because it was stripped of macho posturing. Twee comes from music. It was a post punk musical movement that was largely female driven, but guys not being typically punk macho, or rock and roll macho. There was a hint of that in zines, like guys doing personal diaristic zines.
We went down to SPX [Small Press Expo in Bethesda, Maryland, in 1997], and I think this must have been the year that I guess I had a Million Year Picnic hotel room, maybe [my boss] Tony [Davis] flew down. Brian slept in the hospitality suite, under the table. So we get down there and settle in and meet everybody and Tim [Kreider] probably knows of a party going on at a nearby college. So he drags Ben [Walker] and Brian out. We're probably all pretty well drunk by this point as they're heading off to this. So I said, "Eh, I'm going to stay." I wasn't going to try to come back to the hotel too late. They head off. The next day Brian shows up and he'd lost his shoes. And he slept in his car, I'm pretty sure. And he had lost his shoes, which were these white dress shoes.
[Part 2 can be found here.]
Labels: anthologies, Greg Cook, Highwater Books, Jef Czekaj, Megan Kelso, Ron Regé Jr., SPX, TD Sidell, Tom Devlin