A Few Notes on Not So Funnyman
Friday, August 27, 2010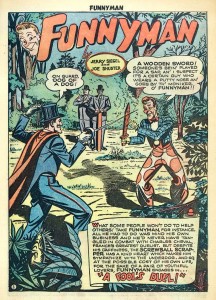 A little more on Siegel and Shuster this week. Funnyman—a six-issue series and short-lived newspaper comic, 1947-49, featuring a character who fought villains with pranks and gags—was Superman creators Siegel and Shuster's last grasp at something all their own. It didn't go so well. The feature is partially reprinted and extensively written about in Thomas Andrae and Mel Gordon's recent book Funnyman: The First Jewish Superhero. It's an odd entry in our current boom, situated less as a comic book of its time and more as an example of Jewish humor and the changing social mores possible for the artistic duo to capitalize on.
That can be a bit problematic because Andrae and Gordon lean heavily on the meaning of the authorship of the feature and of elements of Superman. Is a concept enough to make it "Jewish?" Or is it the creators? As drawn by a young Dick Ayers and who-knows-who-else ghosting for Shuster, it is not drawn in a way that reflects the comedic sensibility of Siegel's attempted zaniness. And it has none of the more obvious visual ethnic references of, say, Eisner's immediately post-War Spirit or the bulk of Jack Kirby's work, both of which, in their frenetic, gnarled forms seem related (if not actually influenced by) Milt Gross and Harry Herschfield. And if it's not actually drawn by Shuster, the scorned and now liberated (to draw sexy girls in an effort to assert his masculinity — though in fact he didn't — not until the S&M stuff of the '50s) Superman creator, then how does that affect the thesis of the book? Similarly, Andrae has Siegel creating Toyman and the Prankster as antecedents to Funnyman's brand of humor, but Siegel, in fact, did not create those characters. So… where does that leave us? Beyond the problematic claims for motivation, while Funnyman certainly, as Andrae and Gordon point out, exemplifies an ethnic "hero" and was based on Danny Kaye, he's not stated as "Jewish," which leaves a wide open door. I could list ten other heroes whose characteristics could be "Jewish." Basically the authors are reaching here.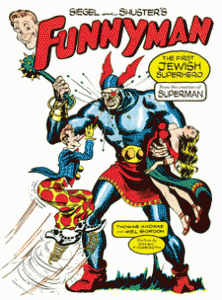 I'm not arguing for only one way of looking at comics, but it seems to me that any scholarship must acknowledge how these things were actually made, and when, and allow that to impact the analysis. Andrae and Gordon sort of forget about the comic itself. What works so well for Tom De Haven when he covers related ground in Our Hero is that he approaches his subject organically — from the inside out. He looks at what really went into making all the comics and TV and movies and analyzes from there, rather than applying a theory and then trying to find evidence for it in the texts and agency in the supposed authors.
In any case, I don't want to be too harsh. I don't love the "hook" of this book. But the reprints are solid and it's interesting to see the work itself, which is really just average (or below) comic book stuff of the time. A chunk of the book is devoted to a history of Jewish humor, which is OK, but not unique, and there are some good bits of straightforward writing about the Jewish nerd stereotype, the emasculating treatment S&S received from National at the time, and how the changing nature of the Superman character may have impacted Siegel's concept of Funnyman. So, while not essential, and in some sense a throwback to the earlier mode of comics history (sociology first, facts later) it does rate as an interesting oddity.
Labels: books about comics, Dick Ayers, Jerry Siegel, Joe Shuster, Mel Gordon, Thomas Andrae