Just Fucked
Friday, June 18, 2010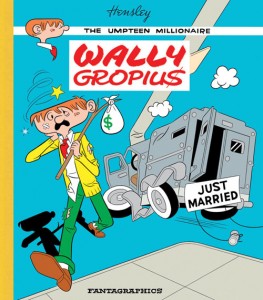 Right up front let's admit this: Wally Gropius is a terrifying comic book and everyone reading this should buy it immediately. Tim Hensley has crammed more horror into these 64 pages than any comic in recent memory. There is body horror, money horror, sex horror, parental horror, incest horror, school horror. Pretty much every feeling that lies just below the surface even now. We're all supposed to be grown up, and the pangs of adolescence should be safely at bay, but they never really are, and I get the feeling that Hensley knows and can articulate each and every one. It is also a terrifying book to talk about, because its level of craft is so high, its surface so impenetrable, that it's like trying to write about Kubrick or something: You know it's all in there, but it's hard to find a foothold. And worse, nearly any attempt to write about the comic basically turns me into a Dan Clowes comics-blowhard (if I'm not one already). Of course, none of this would be terribly interesting if it weren't so funny. Wally Gropius is at its most basic level, the story of a guy who wants to get the girl, the girl who fucks him in both senses, and the fathers that fuck them both. This is a lot of fuckery for one comic. But there it is.
And the reason I'm sitting in front of a screen on an otherwise balmy Friday afternoon when I should be down the road at Sycamore drinking beer in the garden is that after a long day of accounting work, irritating editorial conversations and a single glass of gin, I felt like if I didn't say something about this book my head might explode. So, the surface: Hensley's drawings (related at first to 1960s garbage teen comics but then suddenly to Chester Gould in design and every so often, so help me, Rory Hayes, in terms of spatial abstractions) are so fluid and articulate that it's hard to believe he could or does draw or even hand-write any other way. That is, unlike other cartoonists or illustrators who try on a certain aesthetic (ex. 1: "Pin-Up" section in recent book by Indiana Jones), Hensley isn't trying it on or adapting it: In his hands it's a complete language. It's a bracing, enervating way of making comics because there's so much dissonance between what I want to read the lines as and what the drawings those lines form actually mean.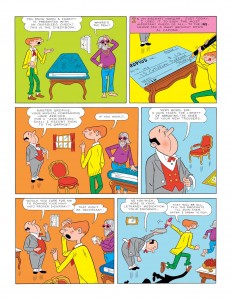 So while the characters in the page at left telegraph "hippie," "butler," "teenager," each acts out emotional extremes not at all limited to staying on model. The hippie is someone else entirely and Wally is genius, idiot, torture incarnate, lover, and rocker. And through all of those things he comes alive in a peculiar way — you never lose sight of the fact that he's a cartoon character but he's a character that seems indelible and in need of reading — as if not moving through each of the continuing, ever-building episodes in the book would doom him to some inanimate stasis. I am also impressed by Hensley's cartoon spaces. He uses color and isolated objects to imply depth (the dark depths of long hallways I see in Hayes) and then shifts them from panel to panel to keep the action just off kilter enough. It's a post-modern notion of space in a book with a modernist surname, and so on. But really it's a stunning effect, turning the focus forever back onto these characters.
This is, if you haven't guessed already, an impossibly dense book that rewards reading and re-reading and reading again. And this internet form, this odd thing where I'm unable to really write as substantively as I'd like (a total cop-out, really) to because of money and time and all those practical things, is perhaps the least ideal place of all to take on such a heady book. But I needed to start somewhere. Dash wrote about it well last fall and Ken Parille has been keeping a running commentary of sorts. Maybe we can get a conversation going here on this drawing, this space, the depth of the emotion, the damn format, and all the other things that make up this perfect book. I thought long and hard about what to write about today, to be honest, and while this is charming in a youthful way (and I don't for a second mean that in a condescending way — I admire the verve and love for the medium on display, but just don't recognize the artists and publishers being referred to — they're not the ones I know, and it's not a history I engage with) that tempts me to write something alternately inspirational and downbeat, no good can come of it. I'd rather just talk about comics and refer interested parties instead to this.
Labels: Tim Hensley