Baby Boom and the "Comics of Attraction"
Friday, July 9, 2010
Ryan Holmberg wrote this excellent piece about Yokoyama's recent work (I'd be remiss not to mention that while we iron out how best to bring Baby Boom to these shores, PBox is offering a new limited edition book that contains work in that vein, BABYBOOMFINAL), and kindly offered it to Comics Comics.
Ryan, take it away: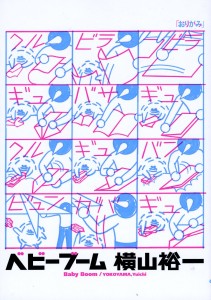 If you put the first three Yokoyama Yuichi books together, you have a composite image of the development of a landscape for leisure tourism in Japan, and a playfully dystopian view of its ramifications. In New Engineering, there is the construction of various sorts of landforms and public works projects mainly for recreational use. In Travel, three men ride in one of the icons of Japan as technological and administrative master of space and timetables – the high-speed Bullet Train – consuming landscape from the comfort of their padded seats en route to a seaside getaway. In Garden, a phalanx of men pass through a modern sculpture park-cum-obstacle course – reminiscent of that television show Takeshi's Castle – playing recklessly with its objects, leading ultimately to the park's destruction. The association made on the Transatlantis blog between Yokoyama's structures and Isamu Noguchi's posthumously finished Moerenuma Park in Sapporo, likewise with man-made mini-mountains and cuboid "play sculptures" for climbing, I think is spot on. In general, I think it useful to think about Yokoyama's reworking of modernist avant-garde forms (like Futurism) and fantasy architecture (like Boullee's "Cenotaph to Newton") through this lens of recreational play, and by extension tourism, considering also the recurring motifs of the sightseer and photographer, especially in a work like Garden, its trespassers the perfect image of the thoughtless tourist group, their activities linked, at the end, directly with the destruction of the consumed landscape, which blows apart in an apocalyptic hurricane. In these and other examples, you have various facets of modernism – mass mobilization, advanced military, surveillance, and transportation technologies, visionary architecture, geometric abstraction, the Futurist obsession with speed and sensation – retooled for a leisure economy, something that has particular resonance in Japan, following the collapse of the Bubble Era and its attempts to physically reshape the archipelago for a first class "leisure society" of parks, art, and resorts.
I like this work enough to be writing what will probably amount to a small pamphlet on Yokoyama and related Japanese artists in photography and architecture. But I can also see how his is a project potentially without end, potentially without development, and therefore soon monotonous. In an interview posted on Comics Comics in June 2009, Yokoyama closes saying that he wants to do a 1000-plus page book depicting war. I hope he doesn't. I am sure it would be impressive, with many novelties and curiosities, but what is another tome of Yokoyama-type drawing depicting men jumping around, projectiles flying, and repeating machinic sound effects? With Outdoor – which came out in 2009 and can be read online in its original webcomic format for Ecologue – I really felt that Yokoyama was working on auto. I had hoped the inventor would find a way to reinvent himself.
So, it was with some relief that I read Yokoyama's newest book, Baby Boom, first serialized in the magazine Webdesigning between 2008-09, and published as a book near the end of 2009. It contains many of the classic Yokoyama themes and graphic motifs, but approaches them in a novel way.
With a Yokoyam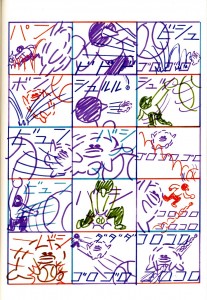 a comic, one is at first caught up in its nets of intersecting lines and layered sound effects. Eventually, you get used to it, and are able to read through the story with fair ease, but at first the diverting force of abstraction is quite strong. Maybe this is why Outdoor is a bore: there is no pleasure in looking; you've seen the art before, you've learned its codes, and you've come to understand what sorts of subject matter it's good for. In contrast, Baby Boom is multi-color, done with magic markers. Most of the episodes in the book (39 of them including the front and back covers, ranging from one to eighteen pages) are composed of two colors, rarely just one, sometimes three or four. For the most part, the colors are used to separate figures from ground, sound effects from one or the either, important details or objects from all of the above, and so on. It is a simple but effective technique, giving the best episodes a pulsating push-pull or flicker effect – embodied thematically in one depicting dancing under disco lights – that would be ruined either by adding more colors or using color in a painterly manner. The most manic chapter is titled "Catch," which for eight pages has a father and son throwing a baseball back and forth, at first carefully in the air, then some tricky grounders, before the kid sails the ball over dad's head and into a stream. As the game gets more and more intense (and sloppy), the red-blue of the beginning develops into a purple-aquamarine red-olive kaleidoscope.
The technique comes out of Yokoyama's own working process. I don't know if he always did things this way, but at least for Outdoor, he sketched things out in color marker on standard copy paper, cut apart the panels and reassembled them as he saw fit, places them on a light box, and then traces them in black ink. This I know from seeing a show of his underdrawings in Tokyo in January 2009. According to the interview at the end of Baby Boom, he had begun the work in his usual monochrome, intending to do it in rough marker versus his signature pseudo-mechanical precision. The idea is not altogether surprising. In those late afternoon sun segments of Travel, with the light casting sharp and quickly changing shadows upon the passengers (pp. 32-35, 84-88), one could sense a desire for expressionistic facture in the heart of the geometer. But apparently, Yokoyama's editors for Baby Boom complained that the product looked lazy and illegible, leading instead to the solution of color separation, where markers look like a virtue. If you take the time to read Outdoor, you will see that sloppiness was definitely on the horizon: corners are poorly joined, lines extend too far, black areas are incompletely filled in. Travel is so good because it's so perfect, and even when you do catch things like tapering brush lines or outlines beyond their borders, they function as little giveaways of handicraft in a world of seeming mechanical perfection. So, considering the growing loss of quality control in Yokoyama's work, I think it wise a different aesthetic was taken up, one in which speed and looseness add to the work rather than take away from it.
The other novelty of Baby Boom is its anthropocentrism. The other works have humans – or at least humanoids, as they are all fairly cold, with the quality of full humanity in neither their movements, nor their speech, nor their look, nor their motivations, acting as much as automatons as free men. In interviews, Yokoyama has spoken of "the stink of humans" – and given the overbearing presence of melodrama and bodily hum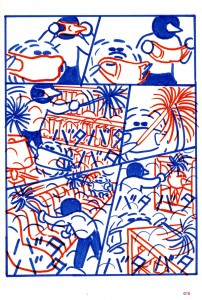 or in most manga, Yokoyama's rejection of human psychology, emotions, and bodily sensation has been a breath of fresh air. Baby Boom, however, is super warm, like an incubator. Indeed, he refers to one of the protagonists as a "chick," though it looks like a small sphere of lint with eyes, limbs, and a flattened beak. As inspiration, he mentions "Anpanman" and "The Adventures of Hamtaro," but I think also of Q-Taro, the white waddling ghost by Fujiko Fujio, their precursor to Doraemon. At any rate, this "chick" has a chaperon, the sphere-plus-cone-faced man that appears here and there in the earlier works. These two are the central characters of Baby Boom, which in many of its episodes depicts typical activities – feeding, playing catch together, fishing together, cleaning house together, going to an amusement park together – of a wholesome father and son relationship (I am assuming male gender here, since there are no signs of women anywhere in Yokoyama's comics). When I first picked the book up, I thought Yokoyama must recently have had a kid, the change from his earlier works so stark, and the depiction of parent-child relations so happy and sentimental. But the appended interview says instead that he became interested in the movements of kids after contact with them through a friend that teaches at a kindergarten. He also talks, here and elsewhere, about how the tourists in Garden are like kids, going where they please, doing what they please, innocently but ruinously. He compares New Engineering to kids at the beach making sandcastles, making the sounds of "GWEEN" [machinery moving] and "DOKAAN" [crashing] while they build and destroy. Given the image of Japan throughout Yokoyama's work – a land of giant structures for play – I think I might title my pamphlet-in-progress Kindergarten.
On the other hand, what I fear Baby Boom augurs is Yokoyama's full-on entry into the "cute" merchandising industries, especially considering how much attention he gives to appeal of cuteness in the interview. I was surprised and dismayed to see at his show in Tokyo in 2009 a selection of plush toys based on his characters. Why does so much Japanese creativity have to go into feeding an infantile consumer economy? In a powerfully gratuitous gesture, the outside obi of the book offers the following lines from Nietzsche's Zarathustra: "Innocence is the child, and forgetfulness, a new beginning." I'd like to see that emblazoned on a plush toy. Baby Boom is hardly the image of a new super-humanity. If anything, it is testament to how much childhood is fetishized in Japan, how much human relations are understood as beneficent paternalism, and how much the hyperconsumerism and over-building of Japan is seen as weird and wacky rather than as serious social, political, and ecological issues. Bliss is the adult child, and forgetfulness, how to stay that way. This is what I don't like about Yokoyama.
On another note, one thing that I have been interested in is the relationship of Yokoyama's work to fantasies of the book as a totalizing representational medium. This is clearest in Garden, with its images of a Borgesian library, with endless numbers of picture encyclopedia, and on its roof a giant map. I think of Travel in this way, as a kind of narrative picture encyclopedia of all the possible happenings during the single, confined topic of the speeding train ride. If you look at "Book" in New Engineering, you will also see that a number of the flying folios are encyclopedic in nature. From the perspective of this imaginary library, Baby Boom can be seen as a kind of compendium, containing in highly condensed form a number of the sorts of themes treated singularly and at length in Travel. Two pages on dam building, sixteen on "Housecleaning," two on "Cooking," six on fishing, seven on using a "Hula Hoop," one on "Origami," two on "School," two on "Field Trip," and so on. If it is physically and economically not possible for Yokoyama to create full-scale, 200-page works on all of these topics, then he can create sketch digests of each, and this is what Baby Boom offers.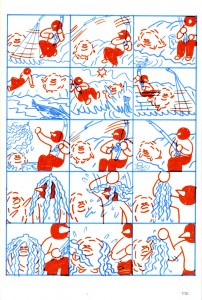 To me, there is often something early-cinema about Yokoyama's manga, in that they recall motifs and sensibilities of cinema as it came into being and first began to circulate. It is different from the sentimental references one finds to lantern slides, zoopraxiscopes, and early animation in Chris Ware. In thinking about how to rework the medium of comics, Yokoyama like Ware ends up rethinking the medium through its "sister" arts, but there is nothing archival and nostalgic about the references as is so obviously the case with the collector-creator Ware, so invested in melancholy and loss. For his recent exhibition at the Kawasaki City Museum, Yokoyama summed up his practice with the tellingly reductive: "I draw time," and I think many of the intermedial references in his work – from picture books and encyclopedias in "Book," to figures of the filmstrip and projector in Travel, to the photographer in Travel and Garden, to the encyclopedias and maps of Garden, and so on – are essentially fantasies that compensate for the fact that comics, as a medium of still sequential images, simply cannot capture duration fully, let alone reproduce it. Until now, there had been something brazen about these references in Yokoyama's work, filled with the enthusiasm of the recent convert (remember that Yokoyama began as a painter) who thinks that his new faith can do anything, transcend its own limits, outstrip other media on their own home turf. I think the mega-landforms of New Engineering and the apocalypse that ends Garden are signs that all of this occurs under the banner of Icarian hubris: the artist knows that he is attempting the impossible and there will be a fall.
It was in Baby Boom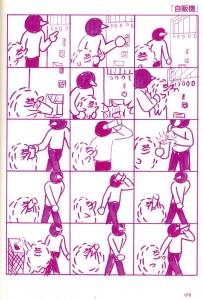 that I feel, for the first time, melancholy welling up in his work, precisely at the points where a fully "cinematic" or "encyclopedic" manga would "breakdown," for example, in the representation of continuous movement, or a complete archive of things-to-do. I first felt this in what is probably one of the otherwise least memorable of episodes in Baby Boom, titled "Vending Machine." The father and son walk up to a vending machine, insert money, push a button, receive their canned soft drink, share it, finish it off, and dispose of it in a recycling container. The sentimentality stems in part from the preciousness of parent and child sharing everyday life. But there is also something about this episode, and other ones as well, that reminds me of the early motion pictures of the Lumiere brothers, where what was on display was often something very banal, of mild or no interest if seen in real life (workers exiting the factory, a boat leaving harbor, a train arriving into station), together forming a catalogue of everyday activities and non-events, the sole attraction of which was there presentation as cinematic events. This was, to use a popular term from film studies, "a cinema of attractions" versus a later cinema that depended on plot and charismatic characters to enthrall audiences.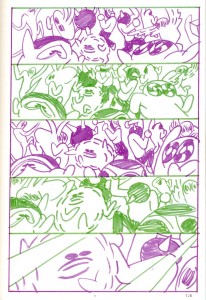 Portions of Baby Boom might be seen as a "comics of attractions," where what the reader enjoys most of all is the representation of daily life through the comics medium, and not daily life itself. And doesn't the graphic effect of Baby Boom add to the atmosphere? – pulsating between basic colors, all the more so in the quasi-stroboscopic "Disco" where light as much as motion is the subject, an amp'd-up version of the warming flicker that pervades the whole book, which we are meant to sit back and read with almost Victorian delight, like born-again children, before a medium that has also regressed, stripped of narrative and presented simply as a system for representing motion unfolding in time – a primitive form that modern comics historically never assumed, even in the highly chronographic examples of Willette or Steinlen, swabbed in narrative from the go. In this, I think Baby Boom points to an important feature about contemporary comics and the sociology of its authors and readers, and that is that, above all else, it is the medium itself that is appealing, so much that we are oftentimes ready to embrace narratives no matter how banal, juvenile, or dumb, as long as it is a comic.
Labels: Ryan Holmberg, Yuichi Yokoyama