Wilson Blah Blah
Tuesday, May 25, 2010
fund-raising week
, I should probably pitch in with a post or two of my own. Unfortunately, I just moved from Brooklyn to New Jersey, and ten years' hoarding worth of books and comics have spent the last three weeks packed away in cardboard boxes (as is our scanner, so no images). All comics except for
Wilson
, that is—left out for my wife to have something to read during the move—so that's the topic I will write about, half-assed though the resulting piece might be.
Please feel free to poke holes in the following:
Numero UNO: Since when did everyone decide that "likable" characters were important? Because nine-tenths of all Wilson reviews (from comic-book enthusiasts, that is—interestingly enough, "mainstream" critics largely seemed able to take this aspect much more easily in stride) make a big deal of how the book's flawed because the protagonist is an asshole. At first I just chalked that up to ignorant posturing, but now even the estimable and usually astute R. Fiore is getting into the act, and taking the philistine position. Something is happening here, but I don't know what it is. Do I, Mr. Jones?
Personally, I don't get the desire for cuddly protagonists. I haven't "identified" with a story's hero since I was hooked on Choose Your Own Adventure books. I mean I guess with escapist stuff like James Bond and Sherlock Holmes, it's kind of fun to imagine you've been blessed by god with amazing talents, and the luck to survive exotic and perilous adventures, and like most people, I'm not immune to the emotional manipulations of a good melodrama, but there's a whole lot of worthy art and literature that doesn't work that way at all. And you don't have to point to anything as obvious as Ubu Roi, Bertolt Brecht, John Barth, or the Marquis de Sade to find it.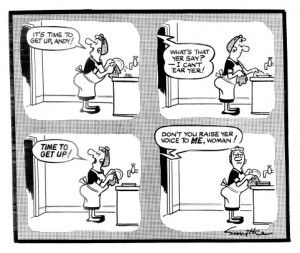 Because you know who's unlikable? Oedipus! Medea! Hamlet! Macbeth! Captain Ahab! Three out of the four brothers Karamazov (probably a different three for every reader but)! Pretty much every character from the novels of Jim Thompson, the movies of Stanley Kubrick, and the poems of T.S. Eliot! I haven't even mentioned the comics yet, but it is clear that the form boasts a very long, venerable, and distinguished tradition of characters that don't invite "emotional investment" (from Otto Soglow's Little King to Mark Newgarden's Little Nun). Not everything good in art depends upon triggering the reader's sympathies—and emotionally attaching yourself to fictional characters is not art's only valid response.
But even while I think the likability of Wilson is a bit of a red herring, I don't believe the people who say they dislike Wilson are lying. So what is it?
Numero DOS: Maybe it's because Wilson is long. Reading the Sunday funnies as a child, I always used to marvel at a few seemingly misplaced strips, which possessed a tone much more adult and bitter than anything else around them. I am referring, as you might have guessed, to the matrimonial horrors of Andy Capp and The Lockhorns. Neither of them were particularly funny to a ten-year-old child (nor are they to me now, for that matter, though I know some vouch for the early Capp), but they did prompt a lot of questions: Who are these people? Why are the married to each other? Why do they hate each other so much? I doubt that Daniel Clowes drew inspiration from either of these strips (much less that he regards them highly), but in a way, Wilson is a version of what I always subconsciously wanted while reading The Lockhorns—a continuing-character gag strip in which the protagonists actually make some kind of progress through the world, a story with a beginning and an end. A comic where the mutual loathing actually has consequences.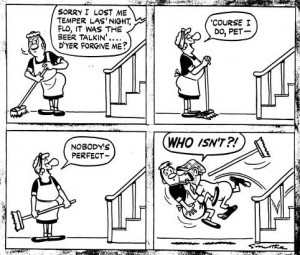 But perhaps there's something disconcerting, even fundamentally disturbing, about this concept. Andy Capp isn't Gasoline Alley. The characters aren't supposed to get old and die. The Lockwoods too are static creatures, forever locked in a pattern of hatred and distrust. Maybe we as humans need for this kind of character to be sealed off from time, locked into a never-ending, changeless pattern. Would Gasoline Alley be as lastingly popular if Walt and Skeezix were moral monsters? Conversely, we might remember the results of static antagonists Itchy and Scratchy becoming "Porch Pals."
(Dick Tracy might be cited as a counter-example, a continuity strip in which perversity abounds, but Pruneface, the Mole, and their ilk always meet their rewards and disappear. As everyone always remarks, Tracy himself has no personality. (Or course, he doesn't inspire much emotional investment either, but that's a tangent best ignored for now.))
Numero TRES: It is fun to re-read Wilson, not as a graphic novel, but read one random strip at a time, as if from a collection of comic strips found abandoned in a vacation home. Who's Wilson insulting this week? Oh, Wilson! It is a very different experience to read the strips divorced from their larger narrative context, and one that reveals a lot about how the book as a whole works formally. Plus, most of them are very funny.
Numero QUATRO: If I had known that my hasty response to Jog's mini-review would be cited so prominently later, I probably would have spent a lot more time thinking about it. I'm pretty much okay with what I wrote, I guess, though I don't think "Nabokovian" is really the right descriptor for Wilson, and I would like to retract that. (I was probably still under the sway of Ken Parille's persuasive David Boring essay from Comic Art.)

Numero CINCO: Has anyone read McTeague? If so, could you write an essay or blog post describing in what way, if any, the novel's story or themes resonate with Wilson? Because I want to read that essay, and I am not going to have time to get to McTeague for a very long time.
Labels: Andy Capp, Daniel Clowes, The Lockhorns
Since everyone else is really digging in and delivering the goods this