Ryan Holmberg on the Early Years of Garo
Monday, April 19, 2010
I asked Ryan Holmberg, the curator of Garo Manga: The First Decade, 1964-1973, (running until June 26 at The Center for Book Arts in NYC) to write something for Comics Comics about the exhibition. He came through and more. Take it away, Ryan.
So, Dan has asked me to write something about "Garo Manga: The First Decade, 1964-1973." Since I don't want to completely rehash what's in the exhibition catalogue, I think I will approach this from what I think the exhibition offers as a corrective to the dominant North American image of Garo—a venue for highly inventive and very funny, but supremely crass material, with lots of deskilled drawing, gross body humor, and non-sequitur narratives—an image informed by anthologies like Comics Underground Japan and PictureBox's Monster Men Bureiko Lullaby that have translated work from the 1980s and '90s. This standard image—I will call it "hetauma" (lit. "bad good," i.e. deskilled, punk, et cetera) Garo for short—fits fairly well with contemporary '70s-'80s underground comics in North America. The mutually adoring relationship between Gary Panter and Japan in the early '80s is a good example of how there is a certain trans-national convergence of taste in alternative comics-making in that period which did not exist in the '60s: Garo and Zap had little in common.
For early Garo, "alternative" meant something different. The magazine was founded with fairly clear and strong political aims. Providing space for amateur authors with unconventional formal and thematic ideas—for which Garo has been memorialized—came a slight bit later, in mid 1965, and did not bear real fruit until 1967. For the first one to two years of its publication, from September 1964 to about the end of 1965, the magazine offered itself as an antiwar, pro-direct democracy political magazine for elementary and middle school children, founded in an era when right-wing parties were making strong inroads into rolling back postwar educational reforms. The early installments of its pillar serial—Shirato Sanpei's "The Legend of Kamuy" (1964-71)—with its stories of economic and social oppression in seventeenth-century Japan, was intended as a kind of fictional "people's history" of pre-modern Japan, dealing with precisely the kind of issues (exploitation, discrimination, violence) that were being removed from social studies textbooks. The magazine also ran editorial essays condemning injustices ranging from the effects of corporate greed and cost-cutting measures on school lunch nutrition to the collusion of Japanese government and businesses with the Vietnam War. There were articles instructing kids in how to protest and how to petition the government. There was also a manga instructing kids in judo, which is interesting in relationship to the material on neighboring pages, a kind of multifaceted, ideological and physical training of children for martial combat against the right-wing social values, the military-industrial complex, and monopoly capitalism. The art is sometimes not so interesting, but all in all Shirato Sanpei was able to strike a good balance between strong story-telling, powerful graphics, and trenchant political statement. But for a couple of scattered and unsustained exceptions, mainly around 1970, I know of no comparable attempt to instrumentalize manga in this way in postwar Japan—to directly try to galvanize children into political activism, versus Barefoot Gen-style lamentation over the horrors of war. The closest thing is rabid right-winger Kobayashi Yoshinori's various books from the past two decades. Garo abandoned its own pedagogical project around 1966, and while its manga from the late '60s are often aggressively critical of the usual roster of liberal and left-wing targets—militarism, the repression of war memory and trauma, the inanities of mass media spectacle, corporatism, the arrogance of the rich—they are little committed to social change. For better or worse, art becomes more important than politics in Garo, and remain that way in alternative comics thereafter. In fact, the politics of Garo increasingly ran the other way. What I am writing about now is the regressive sexual politics of Garo, something that characterizes most of the magazine's big names—Tsuge Yoshiharu, Tatsumi Yoshihiro, Tsuge Tadao, and Hayashi Seiichi for example—and culminates in repeated fantasies of rape in the magazine around 1970.
The other thing to note about Garo in this period is its traditionalism, not evident in later "hetauma" Garo. Many of its "innovations" were rooted in earlier narrative forms: kamishibai paper theatre of the '40s and '50s, rental kashihon manga of the late '50s and early '60s, children's illustrated fiction from the 1930s and '40s, pre-modern travel literature and Buddhist parables, and Japanese folklore and ghost stories. The result is that a lot of the work, and a lot of the best work, is almost painfully nostalgic for a Japan that no longer existed, if it ever did at all. This summer, Top Shelf is putting out an anthology of manga from Ax (Garo's successor), and in it you can see how these traditionalist tropes remain strong in so-called alternative manga to the present. Some of the earliest manifestations of a self-consciously deskilled drawing in Garo also comes out of this rear-viewing perspective. You find intentionally rough and loose drawing in Tsuge Tadao's first works for Garo in the late 1960s, and it is clearly meant to evoke the hardscrabble social conditions of the 50s and the aesthetics of rental kashihon gekiga. Interestingly, Tadao's first such work is about a young Japanese painter obsessed with Vincent van Gogh, showing how late nineteenth-century bohemianism served as a reference point for authenticity in making comics in Japan in the '60s, as it long has and still does throughout the art world. So, another thing the exhibition got me thinking about is how "hetauma" as the hallmark of alternative comics in Japan appears very differently from the vantage of 1970 than it does from that of 1980.
The exhibition and the catalogue was a steppingstone for me. I wrote my dissertation in art history on Garo. I have started reconceptualizing and expanding it into a book, the core of which will cover the same spread as the show does, but will start in the late 1950s to show how alternative manga rose out of the tastes and crises of the rental kashihon market, and will end in the mid 70s, when Garo begins to be reconfigured as vulgarian kingdom. I hope I will be finished in two or three years' time.
P.S. Please buy a copy of the catalogue from the Center for Book Arts. I was able to talk them into increasing the print run, and especially given that they are a non-profit, I would hate to see them stuck with unsold copies. I can promise you it's the best thing on the subject in English. At $20, it's a bit pricey, but it goes to a good cause.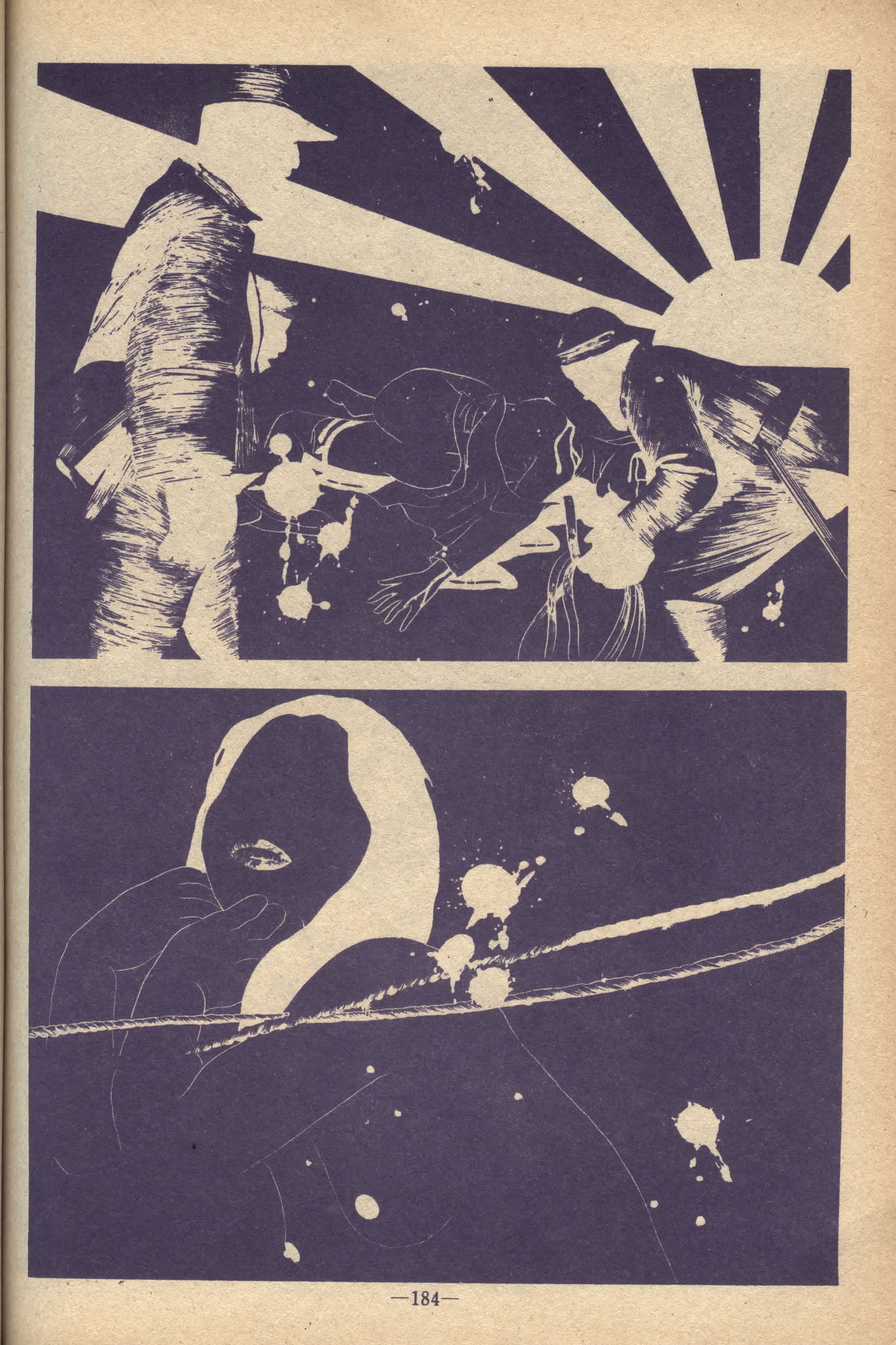 Labels: Garo, heta uma, manga, Ryan Holmberg, Takashi Nemoto, Yoshiharu Tsuge