Tradition!
Thursday, April 8, 2010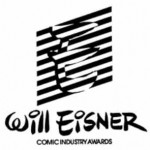 Okay, now this is getting ridiculous. We keep getting nominated, again and … well, okay, there's just one "again" really, I guess. We're not exactly entering Susan Lucci territory here quite yet.
Anyway, the 2010 Eisner Award nominations have been announced, and Comics Comics (along with four other publications) has been nominated in the category of "Best Comics-Related Periodical/Journalism":
* Alter Ego, edited by Roy Thomas (TwoMorrows)
* ComicsAlliance, edited by Laura Hudson
* Comics Comics, edited by Timothy Hodler and Dan Nadel (PictureBox)
* The Comics Journal, edited by Gary Groth, Michael Dean, and Kristy Valenti (Fantagraphics)
* The Comics Reporter, produced by Tom Spurgeon
Congratulations to all the nominees, and a big thanks to all of our contributors, readers, and commenters.
Labels: Comics Comics, Eisner Awards