Dorothy Iannone
Wednesday, April 7, 2010
Last fall, I saw the New Museum's small show of work by Dorothy Iannone. A quick introduction. Iannone is a Boston-born artist, born in 1933, who started painting in 1959 and has since also made video installations, sculptures, and drawings. Her work uses explicit imagery—highly stylized, resembling Egyptian art and fertility goddesses—to describe both the "ecstatic unity" achieved with fellow artist and lover Dieter Roth and the female sexual experience. (Shows of her work have long been plagued by censorship; she's seventy-five and, this show was her first solo exhibition in an American museum.)
The work from the New Museum show that has really stuck in my mind is An Icelandic Saga, forty-eight bound drawings depicting her trip by freighter, in 1967, to Reykjavik, where she and Roth first met. But it isn't just pictures; there are words, too. Though plenty of critical accounts have called the drawings "narrative picture stories," for me it adds up to comic book. There's comparatively little written about Iannone and her work (considering she's been making art for half a century), but from what I can tell, she never read comics. And that's what makes An Icelandic Saga all the more interesting: She arrived at the medium from a completely different path.
Each page in the Saga roughly stands as a single panel (or panel-less page). Iannone uses hand-lettered text—commentaries, flashbacks, and interludes as well as detailed lists and shipboard menus—in cursive and block fonts to tell the story, and the black-and-white images mainly consist of flattened, front-facing figures. There aren't any word balloons, but Iannone's writing, in first- and third-person, moves between narration, reminiscence, and introspection.

Though Iannone wouldn't begin An Icelandic Saga until her affair with Roth had ended, she started working in that form when their relationship began in 1967. Her Dialogues are straightforward comics. Dialogue I, for instance, consists of six pages that relate the story of her getting into bed and turning out the light. Each page is a single panel, some with dialogue, some silent. About this series, Iannone says, "I made art out of the things we said to each other." She studied literature at Boston University before embarking on painting, and much of her artwork contains text. Even the paintings about her relationship with Roth convey, in a sense, the story of their love through individual moments. But in thinking specifically about comics, her early move from abstraction to figuration reveals an impulse to arrange the canvas so that it might be read as much as looked at.
In her early paintings—Big Baby from 1962–3 is a great example—you can see a kind of regulation of the picture space. Though she doesn't use a grid, the painting's vertical and horizontal lines arguably perform the same function panels would, directing the flow of the painting and organizing the forms within it. In one essay on her work, the author compared these lines to Matisse's use of axes in his late collages. Matisse himself writes, "The plumb line defines the vertical and together with its counterpart, the horizontal, forms the draftsman's compass . . . The 'arabesque' develops around these imaginary lines." Sounds like abstract comics.
In a figurative painting from 1970, called The Next Great Moment in History Is Ours, the lines actually become panels, though the various figures (the "arabesques") arrayed around a central woman often break those barriers. Yet even when they're unable to contain a figure's actions, the panels still symbolize a structural rigor.
Another example is At Home, 1969, which maps out the interior of the artist's house. We perceive the boxes/boundaries even if they don't control our reading of the art.
It's the kind of orgy of form (pun totally intended)—where a thousand things occur on a page or spread, but they're all still related—that I'd expect from J. H. Williams, especially in Promethea, where the images are positively metaphysical, but also in his recently completed run on Detective Comics. (There's something of this, too, in Killoffer's deranged Mobius strips.)
In the Iannone and in a page like this from Promethea, where do you look first? And does it really matter? There's still a sense of story, of narrative progression, but the images act more as emblems than as explanatory illustrations of each and every act. (In the late '50s and early '60s, Iannone traveled throughout Asia and Europe where she was exposed to Japanese woodcuts, tantric painting, and Byzantine mosaics. The forms all often work from an emblematic or symbolic foundation, as does Egyptian art.) Certainly, there are instances of these kinds of pages in lots of comics (another great example is JT Waldman's Megillat Esther and Lauren Weinstein's quadruple-page spread for Ganzfeld 7); the difference is that Icelandic Saga consists only of these kinds of pages.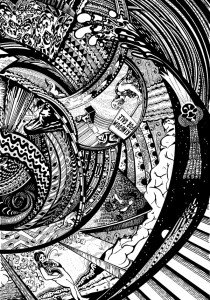 For me, An Icelandic Saga combines all these earlier impulses: the emblematic approach to images in her figurative paintings, the description of everyday life in the Dialogues, the spatial mapping in her abstract paintings.
Labels: comics vs. art, Dorothy Iannone