Bridges Aflame
Thursday, February 25, 2010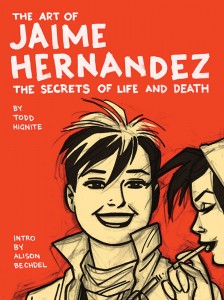 I'm only about halfway through Todd Hignite's upcoming The Art of Jaime Hernandez, but while it's possible if unlikely that the whole thing falls apart near the end, and while I have a few mostly minor qualms (some fair, some not) about its approach, even at this point it is clear that this is a rich and beautiful book, and an essential volume for the advanced Hernandezologist. I'm not going to review the book right now, but just point out a few thoughts it inspired.

1. Some of the images are cropped. Old rock show posters Album cover art, comic-book covers, sketches, et cetera. Not many, but every once in a while. This probably demonstrates my ignorance, but I don't like this trend of cutting up images, like an old movie pan 'n scanned for VHS. (The same thing was done in Blake Bell's Ditko bio and Chip Kidd's Peanuts book, among others.) It's an especially unwelcome practice in a "The Art of ______" book. I want to see ______'s art! I want to see how the artist composed the image, and I don't really care if it looks good or bad. (Pretty much everything Jaime draws looks good, any way.) That is in fact a big part of my interest in such a book: tracking the artist's development.
Anyway, I don't know if he or someone else was personally responsible for making the decision in this case, but Jordan Crane is credited as the book designer (speaking of great designers). To use the old cliché, Crane has forgotten more about design than I will ever know, and that's putting it mildly. And overall, as mentioned earlier, this is a beautiful book. So there very well may be extremely good reasons (legal, artistic, or editorial) for this that I am not aware of, and that will make me look stupid if and when they are revealed. All the same, I wish this trend would go away.
2. I keep wanting to see Gilbert's art. I mean, Gilbert is certainly a near-constant presence in the book; Jaime and Gilbert's careers are too intertwined to separate entirely in the text and photos. But I couldn't help wishing to see some of his drawings included as well. This is an obviously unfair complaint, because both Jaime and Gilbert more than deserve to have a book (or a shelf of books) devoted to each of them as individual artists without having the other dragged in, and this certainly shouldn't be taken as a serious criticism. And yet I've read their work collected together under one cover for so long that their work is inextricably linked in my mind.
(Incidentally, they are also the only comic book figures—other than those I know personally—who I think of by their first names. I don't refer to Ditko as Steve or Clowes as Dan or Jablonski as Gerald. Maybe Stan Lee's Stan, but that's it. This seems to be true for many people—how else do you indicate which Hernandez brother you're talking about? I wonder if this has affected the way their fans think of the Hernandez brothers, made the connection their readers feel for their work more intimate than it would otherwise be.)
But it made me think: twenty or fifty or a hundred years from now, if people are still reading the Hernandez brothers (and I think they will be), in what context will they be read? Already, I imagine most people first experience their comics in the collected volumes, in which the stories are mostly separated by artist. How many of their fans have never actually read an individual issue of Love and Rockets? The currently produced book-like issues still collect Gilbert and Jaime (and Mario) together, of course, and they still preserve the old brothers-putting-on-a-show feel to a remarkable degree. But for future readers, the original comic-book context—not just the intermingled stories, which often seemed to be commenting upon each other sub-textually (whether or not that was literally the case), but the letters pages, ads, short gags, lists, et cetera—may be as unimaginable, and unimportant seeming, as the context that surrounded serialized Victorian fiction (not to speak of that surrounding ancient Greek poetry!) is to readers of Dickens or Thackeray (or Homer) today.
The bridge Frank once declared over is burning in more ways than one, and the fires were probably inevitable. This isn't necessarily a good or bad thing, of course. It's a natural process. But it is may be a good idea to consider just how important all the ephemeral aspects of comic books and graphic novels actually are, and which are worth trying to preserve, if any.
Of course, once the sun explodes none of this will matter anyway, so it's probably wiser to concern ourselves with more important matters in the time we have left. Now where did I put that Master of Kung Fu issue I was looking at, anyway?
Labels: Gilbert Hernandez, graphic design, Jaime Hernandez, Jordan Crane, Todd Hignite