Sugar and Spike revisited
Thursday, January 13, 2011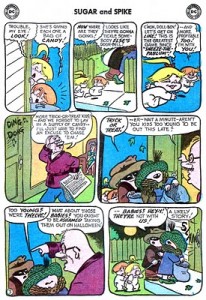 On the Comics Reporter site, Tom Spurgeon commented on my earlier Sugar and Spike posting. Tom's entire comment is worth reading but I wanted to quickly address Tom's key point: "I don't feel confident going as far as to suggest — as I think this criticism does — that that there's no audience for this material presented that way, or that a better audience might be had by skipping this endeavor entirely…. I still think given the inability to snap my fingers and change that company's culture that I prefer this stuff out on someone's desk than back in a closet somewhere."
Far be it for me to suggest that people shouldn't buy this book. If you have $60 to spare on comics, the Sugar and Spike Archive will be worth picking up, especially if you want to see more books in the series.
Having said that, this remains a terrible format for this material. Even if it has to be done in-house (and I'm not sure it does), DC has a variety of formats to choose from: the Archive, Omnibus, Chronicle, and Showcase presents. And as DC has shown with its Mad and Spirit reprints, even the Archive format can be modified to suit the needs of a particular project.
The other formats, in particular the Chronicle one, would better suit Sugar and Spike. Or DC could just look at what other publishers are doing, particularly Abrams and Drawn and Quarterly, and take inspiration for doing kids comics reprints in a fresh way.
Of course DC has a famously intransigent and hard to change corporate culture. But the one way to change that corporate culture is to criticize their blunders, which is why I wrote my blog post.
These formatting and design decisions don't get talked about enough, and I think one of the merits of Comics Comics is that we foreground these issue. At the very least, we can try to get the "industry" to think more about these issues.
You can find discussions of Sugar and Spike comics here.
Labels: Sugar and Spike