Right Comics, Wrong Format: Sugar and Spike
Tuesday, January 11, 2011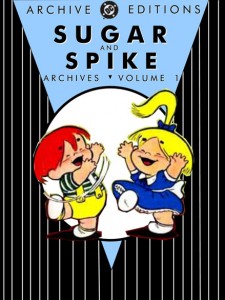 Normally I'd be overjoyed at the news that DC comics is at long last doing a book reprinting Sugar and Spike, the delightful kids comics Sheldon Mayer started in 1956  and continued working on till 1992. Chronicling the misadventures of two talking babies (who can communicate with each other and other kids but not adults), Sugar and Spike hasn't received the critical acclaim doled out to Carl Barks or John Stanley, but the series has a real sweetness to it that is worth cherishing.
Alas, DC is going to reprint the first 10 issues of Sugar and Spike in their dreadful "Archives" format. So the books are going to be overpriced, garishly colored, hideously designed and all-round ugly. It's a real shame and completely unnecessary because the Archive format is a dying one. In recent years DC has improved its reprint game, especially with the handsome Omnibus books devoted to Jack Kirby and Steve Ditko. Given this new flexibility in reprints, why stick with the "Archives" format? Why not hire out a good designer – there are many in comics right now – to do something handsome like the Moomin books or the John Stanley Library or the Toon Treasury. How often does this complaint need to be made?
The mistreatment of Mayer's Sugar and Spike is especially galling because it's happening at the same time that Fantagraphics is set to do justice to Carl Barks. Sheldon Mayer devoted his life to working for DC comics and they treat his legacy with a slapdash, thoughtless shoddiness.
In the meantime, if you want to see Mayer's work treated right, read the Toon Treasury.
Labels: Sheldon Mayer, Toon Treasury