THIS WEEK IN COMICS! (9/22/10 – The Horror, the Smurfs)
Tuesday, September 21, 2010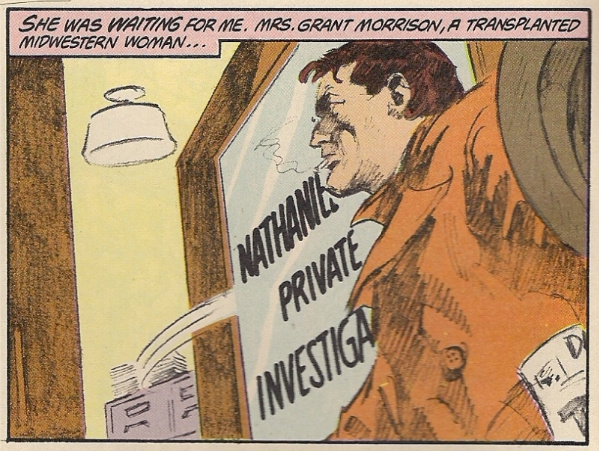 For your pleasure, we now present the off-panel first-appearance-by-implication of beloved DC character Grant Morrison. Created by Don McGregor & Gene Colan in 1984, Morrison is notable for having never directly interfered in the action of his originating series, Nathaniel Dusk: Private Investigator, an out-of-continuity detective series (of added historical interest for being among the first division-of-labor comics series colored directly from an artist's pencils). Morrison's hands-off presence as a comics player was subsequently and radically reversed as chief among many DC character revisions proffered by the 1988 Animal Man series, in which "the Writer" Grant Morrison displays direct and seemingly unlimited control over storyline action, doubtlessly in support of the evolutionary theme present in the series at large, to say nothing of later related comics works.
While ostensibly killed by writer John Ostrander in a subsequent issue of Suicide Squad, Morrison has nonetheless endured as a pliable (if elusively identifiable) presence in DC or DC-owned comics, ranging from Planetary to Seven Soldiers. He shares a name with author and music video personality Grant Morrison, although it is unknown if McGregor and/or Colan were aware of this other Morrison — potentially through contacts established or submission present in the immediate wake of British writer Alan Moore's arrival on the North American comics scene in the early '80s — at the time of his creation.
This has been your Extremely Reliable Comics History for 9/21. Pricing information on upcoming releases follows:
Four Color Fear: Forgotten Horror Comics of the 1950s: My most anticipated reprint package in a while, although that's just me – a new 320-page color compilation of non-EC, pre-Code horror comics, edited by John Benson (Squa Tront, Romance Without Tears) & Greg Sadowski (B. Krigstein, Supermen! The First Wave of Comic Book Heroes 1936-1941). Featuring works by Jack Cole, Basil Wolverton, Joe Kubert, Bob Powell (marking my third owned copy of Colorama, after Dan's Art Out of Time and NEC's old pre-Code reprint/itemization series Tales Too Terrible to Tell), Jack Katz, Al Williamson, Wally Wood and others. Many treats are anticipated. Intro & list of contents, samples; $29.99.
The Smurfs Vol. 1: The Purple Smurfs (&) The Smurfs Vol. 2: The Smurfs and the Magic Flute: Being the new NBM (or, specifically, their Papercutz line of comics for younger readers) small-sized (8.7″ x 6.5″) softcover release of vintage Belgian kids' comics by Pierre "Peyo" Culliford, working with co-writer Yvan Delporte, who was EiC of serializing magazine Le journal de Spirou at the time. This is a slightly out of order series, in that vol. 1 presents the original 1963 collected Smurfs album — unfortunately altered from its original form, The Black Smurfs, to (presumably) bring it in line with a similarly modified '80s television cartoon adaptation poised to (presumably) head off accusations that the original Black zombie-like Smurfs presented a metaphor for racial unrest in a post-colonial society — while vol. 2 is actually a 1958 album in Peyo's preceding Johan et Pirlouit series, marking the Smurfs' first appearance. I don't think anybody is likely to confuse Peyo with André Franquin in terms of mastery of the Marcinelle style of BD composition, but the early Smurfs stories possess an undeniable vigor in spoofing societal failings that make them fascinating to revisit. Samples; $5.99 (each).
Fire & Water: Bill Everett, the Sub-Mariner and the Birth of Marvel Comics: This is the next deluxe Fantagraphics hardcover/art book/biographical thingy by Blake Bell, of 2008′s Strange & Stranger: The World of Steve Ditko. The title suggests some focus on a specific period in the artist's development and comic book history. Preview; $39.99.
With the Light: Raising an Autistic Child Vol. 7: Along with Viz's recent cherry-picked partial release of the long (long, loooong)-running cooking manga Oishinbo, this Yen Press series has provided maybe North America's least obscured window into the world of totally unassuming manga for adults. This will be the final volume, owing to artist Keiko Tobe's death this past January, unless Yen is planning to release the series-related odds 'n ends compilation her Japanese publisher put together a few months back; $14.99.
Bokurano: Ours Vol. 2 (of 11): Man, I didn't realize this hadn't been released yet. It's the second collection of Mohiro Kitoh's pain-of-childhood series about a slew of children tasked with the operation of a giant robot — allegedly an advanced video game, but we know better — against terrible invaders from another realm. Two of 'em either dropped dead or killed a loved one over the course of vol. 1, so we can bank on many laughs to come. In all candor, I found the prior volume to be stiff with exposition and creaky under the burden of its huge cast, and not particularly insightful or surprising in its juggling of robot-related youth angst that's been a going J-pop concern since the salad days of Yoshiyuki Tomino in the 1970s, but I'm told it gets better as it goes along. Full-length preview; $12.99.
The John Stanley Library: Tubby Vol. 1: This is Drawn and Quarterly's 8.25″ x 10.75″ hardcover release of material (issues #9-12) from the Dell series Marge's Tubby, headed as always by John Stanley. Note that this material is slightly further down the line than Dark Horse's smaller softcover Tubby collection from last month, although a future Dark Horse collection might present the same work at a smaller size. Samples; $29.95.
Cages: Funny, I just had a conversation about this at SPX, like someone told me "I've decided I'm blaming everything wrong with comics on Dave McKean. All this illustrational collage, no drawing." "There's drawings in Cages," I replied. "Yeah, but none of 'em are any good." (I'm paraphrasing.) So now Dark Horse offers you a softcover opportunity to decide for yourself; Cages remains, as always, your huge, weighty, not always readily available 'literary' graphic novel from a time when such things were uncommon, leaving it a flickering presence on the periphery of a 21st century comics arena that's a good bit more like it than 1998; $29.99.
Wildcats Version 3.0: Year One: There was a lot of vigorous recalibration of capes/tights properties going on in the early '00s, and few were more comprehensive than writer Joe Casey's gradual transformation of this high '90s Jim Lee creation into a seething corporate espionage serial; nothing says "superhero comics in 2002″ quite like those covers. This is a collection of half of Casey's latter run (#1-12, though he'd started out on a prior iteration of the series a few years before), with artists Dustin Nguyen & Richard Friend; $24.99.
The 'Nam Vol. 2: Prior to that, the mid-to-late '80s marked the 'big' period of substantive (albeit relative) experimentation for superhero comic book publishers, and I tend to take this long-running Vietnam-themed war comic as a sample of the day, at least in these early issues (which is as far as I've read). Covering issues #11-20, which see Wayne Vansant take over for originating artist Michael Golden, with a one-issue guest spot by John Severin; $29.99.
Mickey Mouse and Friends #300: Oddly enough, this Boom!-published edition of the possibly forever-ongoing Disney series seems to include some vintage Floyd Gottfredson material from 1934, so interested parties might want to view it as a sampler for Fantagraphics' upcoming comprehensive collections of the same work (I mean, not that the presentation will necessarily be the same or anything); $3.99.
The Muppet Show Comic Book Vol. 2 #10: For contemporary Disney-owned properties, I prefer Roger Langridge; $2.99.
Bart Simpson's Treehouse of Horror #16: Wait, does this count too? It's the annual holiday edition of the Simpsons comic, this time featuring Evan Dorkin, Peter Kuper, Kelley Jones, and one Ian Fraser "Lemmy" Kilmister of the musical act Motörhead; $4.99.
Heavy Metal Vol. 34 No. 7 (Nov. 2010): As usual, I have no idea what the featured album is — Biocosmosis: Savas, by Edvin Volinski, Nikodem Cabala and Grzegorz Krysinskiby — but I do understand this issue includes a new story by Stan & Vince (Stanislas Manoukian & Vince Roucher), a pair of energetic stylists briefly active on the early 20th century throwback adventure comics scene in the '90s, where they assisted Dave Stevens on bits of The Rocketeer and illustrated issues of Tarzan and The Shadow at Dark Horse. They also did some neat-looking production art for the Catwoman movie, which keenly illustrates the difference between production materials and completed motion pictures such as Catwoman. Anyway, I'd totally brush aside a copy of Classic Rock Presents: Prog to get a look at this; $6.95.
Swedish Comics History: As usual, we close out with a new book-on-comics — and isn't it nice that we're capable of presenting a feature like that? — this time a Fredrik Strömberg-authored publication of the Swedish Comics Association, distributed by Top Shelf (which has been releasing a number of Swedish works over the last few months). At 124 pages, I'm thinking it's an illustrated overview-type deal, and will probably be worth paging through; $19.95.
Labels: Don McGregor, Gene Colan, Grant Morrison, John Ostrander, This Week in Comics