THIS WEEK IN COMICS! (7/21/10 – Britain & Sweden: War of the Invading Forces)
Tuesday, July 20, 2010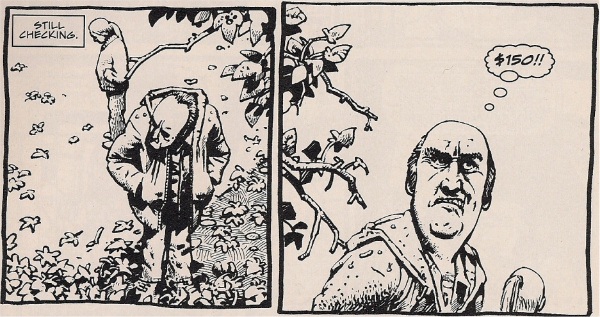 Following up on last week, above we see artist Richard Corben working from a story by the late Harvey Pekar, as presented in 2006′s issue #2 of the first Vertigo iteration of American Splendor; a second series followed in 2008. Collectively, those eight issues were the last of Pekar's work to see print in the comic book format — although they followed a prominent bookshelf-ready Vertigo release in 2005′s The Quitter, drawn by Dean Haspiel — and often had the feel of a valedictory effort, with a occasional propensity for teaming Pekar with hopefully simpatico 'name' artists, like Gilbert Hernandez or Darwyn Cooke.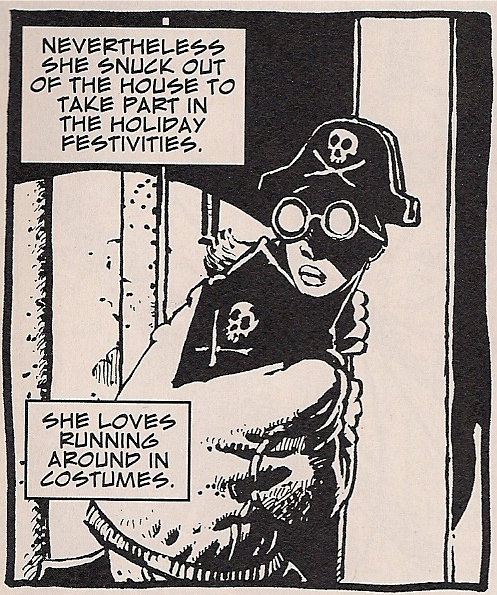 Corben illustrates a five-page Halloween story which, in true Pekar fashion, ambles into a small domestic drama about searching for a lost pair of glasses the day after a party. The effect of this subject matter on the art is interesting; stripped of any overt supernatural or fantastical image potential, extra attention is drawn to how Corben's stylized figures hang weightily in space, initially standing in claustrophobic rooms draped with midnight holiday shadows (see left), but then moving outdoors with Pekar's narrative into white-heavy space, cold and aloof (perfect for hiding misplaced items) and quietly threatening, like sharp leaves and twigs surrounding grumpy vulture Harvey above, externalizing his eternal anxiety ($150!!) as nature itself threatening him with yet another poke. That's just how Harvey's world could seem in these comics, mundane to some but likewise potentially transformative for collaborators, in that we might suddenly see nothing but ably wrinkled humans scanning their model-like world, a vulture by a tree, wondering what to do, or maybe pondering which created which, man or world? Writer or artist?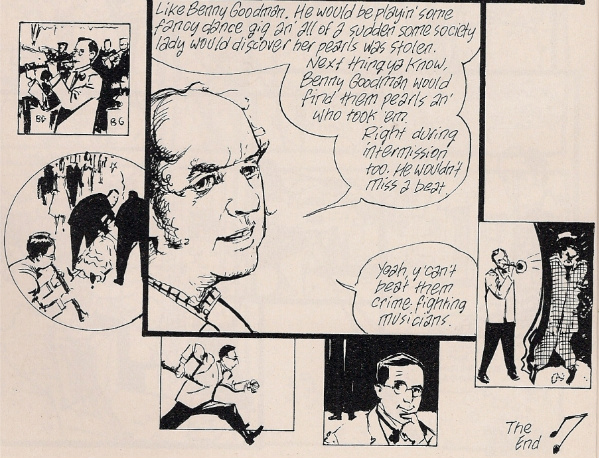 Other artists, and worlds, of course, might resist. Witness Eddie Campbell, as crucial a practitioner of autobiographical comics as Pekar, but full of fancy and romance and fiction, sharply apart from the self-consciously unadorned vignettes and monologues and encounters of the comic book American Splendor. Above you'll see the bottom half of the second and final page of a Pekar/Campbell collaboration, from the same issue as the Corben story. Harvey has bought some pierogies at the store, and become engaged in a chat with a bagger on trombonist Jiggs Whigham, whose father was a policeman. Our Man reminisces about the old Famous Funnies series Juke Box Comics, in which real popular musicians would get into adventures. Suddenly, the final 'panel' is protruding downward from the talking heads above, and Benny Goodman is racing around Pekar's narrative in a wordless escapade, anticipating the (literally) extra-narrative, occasionally extra-mortal antics of Campbell's 2008 The Amazing Remarkable Monsieur Leotard with Dan Best.
But make no mistake – this might look like crime fighting, but it's as much a jailbreak. From Harvey Pekar.
Additional splendor of every construction and connotation follows:

Scott Pilgrim Vol. 6 (of 6): Scott Pilgrim's Finest Hour: This is the big release of the week, big enough that a bunch of places are actually releasing it today, some of them just past the stroke of midnight. Which, er, was several hours ago, but I'm sure there's still a copy for you somewhere! An extra-thick 248 pages closes out Scott's journey to really understand the woman he wants to love and sort out where the hell his life should maybe go. Series details abound in my 2008 chat with creator Bryan Lee O'Malley, transcribed at this very site; $11.99.
A Treasury of XXth Century Murder Vol. 3: The Terrible Axe-Man of New Orleans: Meanwhile, another long-lived bookshelf-ready project continues, as NBM presents vol. 12 of Rick Geary's annals of nonfiction killing, the third to take place in the 20th century. The place is New Orleans, the time is after the Great War, and the subject matter is axes to the head. If it's anything like prior installments, expect 80 pages of carefully distilled research smartly dotting Geary's disquietingly buoyant cartooning. Preview; $15.99.
Mondo Urbano: And Scott Pilgrim isn't Oni Press' only release for the week – here's a 128-page collection of nice-looking Brazilian minicomics from Rafael Albuquerque, Mateus Santolouco & Eduardo Medeiros, forming an interlocking story of various perspectives re: the shit that went down at a band's show. Non-English preview, official site; $11.99.
Neonomicon #1 (of 4): Being a new comic written by Northampton, England's Alan Moore, of whom mention has occasionally been made online. Touted by publisher Avatar as Moore's return to horror comics, it's also an original sequel to The Courtyard, a 2003 miniseries adapted by writer Antony Johnston and artist Jacen Burrows from a rather slight (if clever) Moore prose work pressing all sorts of Cthulhoid references into the service of vivifying H.P. Lovecraft's ideas as literal mind drugs that take hold of a brutish investigator. Now there's a new investigation going down, and likely further arrangement of Lovecraftian stuff (drawn again by Burrows, fresh off of the Garth Ennis-written Crossed) into some massive troubled architecture in the Mighty Moore Manner. Your compulsive flip-through of the week. Preview; $3.99.
ABC Warriors: Meknificent Seven: But don't forget the history, damn it! The so-called British Invasion of American superhero comics prompted by Moore's horror work on Swamp Thing built its might in (among other places) 2000 AD, stories from which Simon & Schuster are now collecting into stateside softcover releases. This particular series saw a Moore-scripted episode after his U.S. debut, but the book we're getting is 136 pages of vintage 1979 robots-at-war, set in writer Pat Mills' wider Volgan War narrative. The planet Mars needs taming, and robots are prone to handling the jobs humans don't want to do. Artists Kevin O'Neill, Brendan McCarthy, Mike McMahon, Brett Ewins, Dave Gibbons and Carlos Ezquerra all contribute. $17.99.
Death Lives: Also from S&S and 2kAD, there's a 168-page collection of the noted Judge Dredd superfiend's big appearances, 1980-96, written by John Wagner (with Alan Grant early on) and drawn by Brian Bolland, Ron Smith, Ian Gibson, Trevor Hairsine, Greg Staples & Kevin O'Neill; $17.99.
The Troll King: Diamond has this marked as 'offered again,' and publisher Top Shelf notes an April release on its website, but I don't recall seeing this very nice-looking all-color Kolbeinn Karlsson fantasia released to comics stores until now. A story suite concerning odd customs and happenings, it's maybe the most striking product of the publisher's Swedish Invasion initiative. Preview; $14.95.
From the Shadow of the Northern Lights Vol. 2: Relatedly, here's a 200-page color anthology of Swedish comics, co-published by Top Shelf and Galago, and edited by Johannes Klenell. Note that vol. 1 was released stateside in 2007 by the same publishers. Preview; $14.95.
Moomin: The Complete Tove Jansson Comic Strip, Book 5 (of 5): The conclusion of Drawn and Quarterly's effort to reprint all of creator Jansson's run on this gently satiric, more adult-targeted version of her famous creation; writer Lars Jansson (her brother) would assume solo writer/artist duties afterward. Another 8 1/2″ x 12″ hardcover, 80 pages; $19.95.
RASL Pocket Edition Vol. 1: Kind of the opposite of something like the Moomin books, or even this Jeff Smith desert sci-fi-of-alternate-dimensions' own earlier oversized softcovers, in that every issue so far (#1-7) is compiled in a smaller 6 1/2″ x 9″ format; $17.95.
Vagabond (VizBig Edition) Vol. 8: Of course, if you've got a Takehiko Inoue swordsman manga up to 32 collected 'pocket editions' so far, with vol. 33 on the way this October, it might be worthwhile to expand outward. Covers vols. 22-24 of the thinner collections for 624 pages of muscularly-drawn confrontation; $19.99.
Sam Kieth: The Sketchbooks Vol. 2: I really enjoyed the first of these oversized 48-page softcover IDW process releases, particularly for Kieth's opening essay about drawing with his left hand and embracing 'bad' qualities in his art, although there's some sparse but well-put captions for individual pieces as well, ranging from the classically sketchy to full-page abstract workings. A formal deluxe art book is also (still) in the making; $9.99.
Garth Ennis' Battlefields Vol. 2 #8 (of 9): Motherland Part 2 (of 3): Ah, that's a little war story of Direct Market branding right there in the title, although the subject matter continues to be Soviet aviation of WWII. Preview; $3.50.
Hellblazer #269: I like that writer Peter Milligan looks to have made Shade the Changing Man a de facto costar to John Constantine for the near-future; $2.99.
Red Mass for Mars #4 (of 4): Jonathan Hickman has been working steadily and with increasing renown as a writer of various Marvel series — the first softcover collection of his Fantastic Four run arrives this week, collecting #570-574 — but admirers will want to note the final return of this Image series (drawn by Ryan Bodenheim), which saw its prior issue hit approximately 13 months ago; $3.50.
Cerebus Guide to Self Publishing Expanded Edition: And finally, your book-about-comics for the week, originally released in 1997 as a collection of Dave Sim's writings on the philosophy and practice of self-publishing, a boom in which he served as a prominent guiding star. I suspect this material will act best today as a portrait of the times as one man knew them, although Sim is promising new material covering the online world, hopefully including his experiences with print-on-demand through comiXpress; $18.00.
Labels: Eddie Campbell, Harvey Pekar, Richard Corben, This Week in Comics