Moebius story
Wednesday, February 17, 2010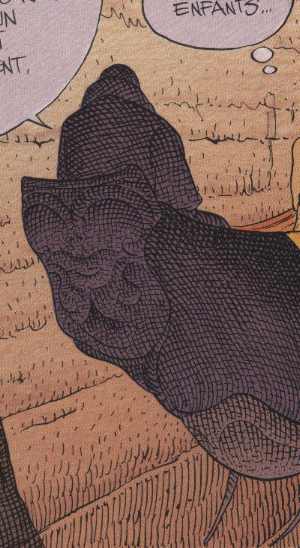 I got a chance to meet Moebius in March 1992. It was in New York City and I was working at Jim Hanley's Universe on 34th Street. He was doing a press tour for the Silver Surfer mini-series he did with Stan Lee. Remember that one, True Believers? (Did you know that in French, "The Silver Surfer" is the "Le Surfer d'Argent"? Which can sorta be translated into "The Money Surfer" because "Argent" is a word for both "silver" and "money" in French?)
Anyways, I was 19 at the time and still a huge Moebius fan. I was such a Moebius fan, in fact, that all my friends called me "Frankius" back then. Some still do. And man, is it a bitch to explain that one to people who don't know who Jean Giraud is. Wait, you don't know who Jean Giraud is? Then click around and come back. Cool? Cool. He's basically a guy who drew Western comics and then drew Sci-Fi comics.  Really good ones.
So when he came into the store and I got to be one of the kids who hovered and made sure he was cool and had water, whatever. There was a line of people coming to get books signed. There was one Blueberry fan. Everyone else had Moebius books to get signed. In every book he drew a quick but perfect sketch. Usually a figure. Perfect proportions. Perfect gesture. It was pretty fun to watch.

He also had with him a sketchpad with loose pieces of bristol; maybe 11 x 14. The loose pages were finished pages for a new Major Grubert story. I knew he drew "automatically" out of his head, with no pencils, but I wasn't prepared to see how precise and loose his originals were. They were made without ANY discernible hesitation.
There was one page and one panel in particular that really stayed with me. It was a canyon rock wall that curled away in the distance. Floating along in it was a boat with a shadowed figure in the front. I remember it so distinctly because the marks that comprised the boat were like an intricate latticework, like a wicker chair. The sheer number of lines made the boat dark and it stood in relief of the canyon. It didn't look drawn and shaded, it looked etched into the paper. Did he lightbox those lines? There were no pencil lines at all. Even the handwriting was eyeballed  in straight pen. The page was perfect. I was in awe. For real.
He said that he just could "see it" and draw it without making lines with a pencil first. He also said that there are times when he pencils first, but usually not any more. "Maybe for Blueberry, yes, I draw it first to be more accurate." But not the Moebius work. That's all "straight pen" work. Kinda like Crumb. And from what I understand it was Crumb's approach (no hesitation) that lead Jean Giraud to do "freer" comics under the pseudonym of Moebius. Jean Giraud was the side that made Westerns. Moebius was the side that made Sci-fi.
Anyways, it was only recently that I saw the same page printed in a book. It was from a story called "The Man from Ciguri" and the page is dated 1991. Picked it up when I was, ahem, in France.
What's striking to me holding the book (it's a hardcover album) is that the page is printed the exact size that it was drawn. The pad of paper that Moebius had with him in the store was more or less the same size as the finished print size. He was working on a 1 to 1 ratio. In most comics there is a reduction process. Most comics artists work "half up." Not Moebius. What you see it what you get.
So I'm now able to compare the real page with my memory of it. I'm surprised at how much I remember the boat and the canyon wall. The way he uses the shadow to bring the boat closer to the viewer is just beyond. Just beyond. It just makes me want to "give up", haha. How do you get to that point in drawing when you can just see like that? Jeez.
Over and out.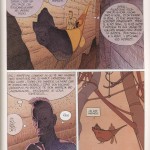 Labels: Moebius